The start of the third and final One-Day International between India [ Images ] and Australia [ Images ] at the Jawaharlal Nehru [ Images ] stadium could be further delayed after the collapse of one of the sightscreens.
The sightscreen at the press box end suddenly gave way and came down with a thud.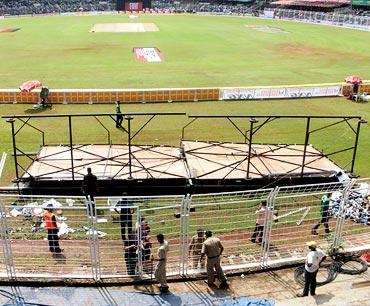 Already the start of the game was delayed because of wet patches on the outfield following incessant rain over the past few days.
The umpires inspected the ground twice, at 0845 IST and 1100 IST, before deciding on another check at 1215 IST.
The Goa [ Images ] Cricket Association officials finally managed to get the sightscreen back in its place with some help from the groundstaff. They used ropes to tie the iron railings on the sightscreen to the pillars on the press box.
The Goa Cricket Association will refund ticket-holders if the match is washed out.
"In case it rains and the match gets washed out without a ball being bowled, we will refund the money to the ticket holders. The match is insured for Rs 1 crore," Goa cricket association's president Dayanand Narvekar said on Saturday.
Trailing the hosts 0-1, the Aussies could lose their first ODI series in India in over two decades if they lose Sunday's match or if it is washed out. The Aussies have already been handed a 0-2 drubbing in the Test series.