Skipper of the No. 1 Test side, Mahendra Singh Dhoni [ Images ] has attributed his success to the team and said he was lucky to get a good side.
"I am a successful captain because I have got a good team.
"Cricket is all about a team game. I have got some great  players who back each other, help each other and that really helps the cause of the team," Dhoni said of his side which  boasts of Sachin Tendulkar [ Images ], Rahul Dravid [ Images ], V V S Laxman [ Images ] and Virender Sehwag [ Images ].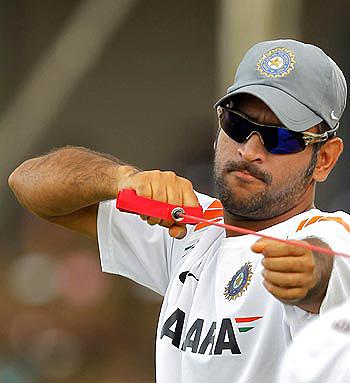 Asked about India's [ Images ] preparation for the World Cup next year, Dhoni said, "It's about four months away which seems a short time, but we have two series against New Zealand [ Images ] at home and South Africa [ Images ] away, in between.
"I really hope that the top players don't get injured and are available." 
Dhoni was at a promotional programme with wife Sakshi Singh Rawat who hails from Kolkata [ Images ].
Meanwhile, the captain, who led India to both Test as well as One-day series victories against Australia [ Images ] recently, termed his team as a balanced side but admitted that the bowling needs to improve.
"There are good batsmen in the team, who have a lot of energy and enthusiasm. New players are also coming into the team and are continuously improving their game," he said.
"However, some improvement is needed in the bowling department as it is always an area of concern for us," Dhoni added.