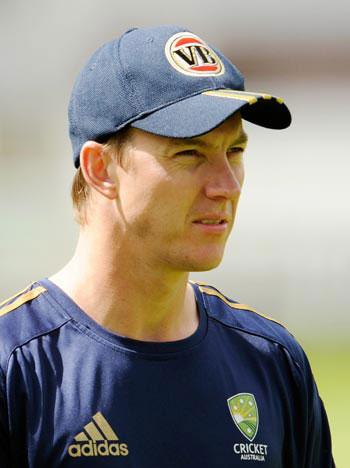 The murky saga of bookies making approaches to cricketers widened with revelations that two more Australians, fast bowlers Brett Lee and Mitchell Johnson, had confronted an alleged Indian bookmaker during the Ashes in England last year.
All-rounder Shane Watson and wicketkeeper batsman Brad Haddin had revealed on Tuesday that they were approached by a bookmaker in England during the Ashes and Australian team manager Steve Bernard on Wednesday said the same happened to Lee and Johnson during that time.
Lee, Johnson and Watson had passed on the mobile phone number of the alleged bookmaker who approached the trio during the Ashes in London last year, a report in the Daily Telegraph said.
The alleged bookie also tried to get the phone numbers of the Australian players but they refused to pass on any personal details, it said about an incident that happened in July last year before the second Ashes Test at Lord's.
"At the man's insistence, one of the players' partners scribbled down his number in Bertie's Bar in the team's exclusive Royal Garden hotel in London. The number was then passed on to Australian team manager Steve Bernard who included it in his official report to ICC's anti-corruption unit," the report said.
Bernard said he had provided the phone number to ICC's ACSU but was unaware if the world body had nabbed anyone over the illegal approach.
"I can confirm the players were approached and I can confirm that the mobile number was passed on. I am unaware if anything has happened in relation to it since," Bernard was quoted as saying by the newspaper.
Lee did not comment on the revelation but Johnson's manager Sam Halvorsen said the fast bowler had acted quickly and properly to report the incident.
"The players were approached during Ashes, Mitchell did the right thing and reported it to team manager and as far as I'm aware there has been no further action," Halvorsen said.
The revelation came after 'spot-fixing' allegations against three Pakistani players -- Test captain Salman Butt and pacers Mohammad Asif and Mohammad Aamir -- following an "expose" by British tabloid News of the World.
The Daily Telegraph report was critical of ICC's handling of such cases and said an "impotent" ACSU has not been able to do anything in this regard.
"Cricket's anti-corruption unit does not comment on ongoing cases but the shady figure who approached the Australians is thought to still be at large - more than a year after the incident which occurred before the second Ashes Test at Lord's in July 2009.
"It is an indictment on cricket's impotent corruption police who have never had a big-name scalp."