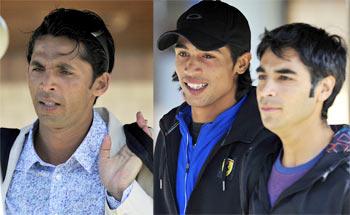 The three Pakistan cricketers implicated in the match-fixing controversy had asked to be kept out of the team's remaining matches in England, Pakistan's High Commissioner said in London on Thursday.
Wajid Shamsul Hasan told reporters after a meeting with Test captain Salman Butt and pace bowlers Mohammad Amir and Mohammad Asif in London that the trio had suffered "mental torture" and are not in the right frame of mind to play.
The commissioner added that he believes in their innocence and Pakistan could take legal action to defend them.
"They are innocent until proven guilty. Pakistan will defend it's cricketers in court and we will give them whatever assistance needed in this case We are extremely disturbed with what has happened in the past one week. They have maintained that they are innocent and on account of the mental torture that has hugely affected them, they are not in the right frame of mind to play any further," Hasan said.
"Therefore, they have requested the Pakistan Cricket Board not to consider them for the rest of the matches until their names are cleared," he added.
Hasan also rejected reports that the players are due to be grilled by Scotland Yard and said the three would remain in England for investigations.
"The investigations are on and we will have to wait for the reports. There are no meetings with the Scotland Yard today. They have voluntarily asked for their names not be included in the team. They will definitely remain in England," he said.
Asked whether the passports of the three players had been confiscated by the Scotland Yard, Hasan replied, "Their passports are with the team manager."
Hasan said the players' morale is low but they will not run away from the investigations.
"They are here, they are not running away. They are innocent and they are defending their innocence. They are upright young men; in fact, one of them (Mohammad Aamir) created a record of taking 50 wickets in the shortest time. We will give them whatever support they might need," he said.
"Serious charges have been levelled against them and they have to defend themselves. They will even go to court to for that. There have been such incidents in the past. You remember what happened between Imran Khan and Ian Botham, Imran won the case," he added referring to a 1996 instance when Imran defended himself in a libel action brought by Botham and Allan Lamb over ball-tampering.
Asked to comment on British tabloid News of the World's sting operation on a bookie which started the furore and the photographs of the players with the alleged bookmaker, Hasan said, "I have seen many pictures. I have been a journalist all my life. So I know what pictures mean."