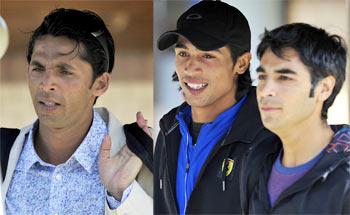 The International Cricket Council [ Images ] (ICC [ Images ]) charged Pakistan's Salman Butt [ Images ], Mohammad Asif [ Images ] and Mohammad Amir under its anti-corruption code, cricket's ruling body said on Thursday.
The three players have been provisionally suspended from all forms of cricket and related activities until the case has been concluded.
Pakistan withdrew Butt, Amir and Asif from their Twenty20 [ Images ] and One-Day International team on Thursday.
British Police confiscated the three players' mobile phones after allegations in a British newspaper that they taken bribes to fix incidents in the fourth and final Test against England [ Images ] at Lord's last week.
"We will not tolerate corruption in cricket -- simple as that," ICC chief executive Haroon Lorgat [ Images ] said in a statement.
Lorgat further added that if the charges are proven against the trio they could be hit with a life ban.
"We must be decisive with such matters and if proven, these offences carry serious penalties up to a life ban. The ICC will do everything possible to keep such conduct out of the game and we will stop at nothing to protect the sport's integrity. While we believe the problem is not widespread, we must always be vigilant."
"The players have a right to contest this provisional suspension and a further opportunity to defend these charges at a full hearing before an independent Anti-Corruption Tribunal in accordance with Article 5 of the code. The players have 14 days from their receipt of the charge sheet to indicate their desire for a hearing," the statement added.