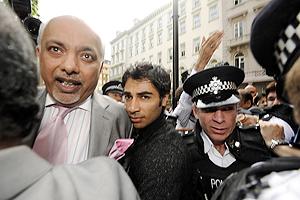 Cash used in the spot-fixing scandal during last week's Lord's Test is understood to have been found in the belongings of Pakistan Test captain Salman Butt [ Images ], a report said.
According to the report in the Daily Mail, Scotland Yard officers will question Butt on Friday over how marked notes were discovered from his hotel room and in his locker at Lord's cricket ground.
The money is believed to have been part of 150,000 pounds handed over by an undercover News of the World reporter to the alleged fixer Mazhar Majeed, the newspaper said.
The cash, given to Majeed for fixing three no-balls of the Lord's Test between Pakistan and England [ Images ], is understood to have been secretly marked so that it could be later identified by police.
According to the report, the recovered money was undergoing forensic tests to confirm police suspicions that it came from the News of the World sting.
"Early indications suggest the money found in possession of Butt originated from the sting. There are good reasons to believe this was the case," the newspaper quoted sources as saying.
The revelation came after the International Cricket Council [ Images ] had charged and provisionally suspended the tainted Pakistani trio -- Butt, pacer Mohammad Asif [ Images ] and Mohammad Aamer [ Images ] -- from all forms of the game pending a decision on the charges.