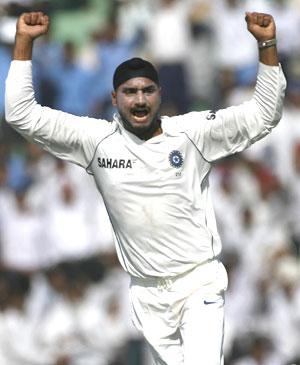 India off-spinner Harbhajan Singh on Sunday said he has never been approached by a bookie in his career and would slap anybody who dares to approach him to fix games.
"I will slap any bookie who will come near me, big time," said Harbhajan when asked what he will do in case a bookie approaches him to fix games.
"I have never been approached by a bookie and I have not also seen these things happen in my career. I never feel that any one can do such things," he told NDTV.
He said it would be a "shame" if the 'spot-fixing' allegations against Pakistan players turned out to be true after the investigations.
"I don't know the details of what happened in England. I read in the newspapers but I don't know how true are these allegations. Investigation is going on and let us see if these allegations are true or not," Harbhajan said.
"When I play for my country I am very proud of representing my country. I don't know how people can do like this. It is a shame if these things are happening," he said.
Harbhajan said if the allegations are true, harsh punishment should be handed out to the players.
"Well, as Imran Khan has said if these allegations are true there should be punishment to set an example so that it is not repeated. ICC and the (Pakistan) Cricket Board should take necessary steps," said the feisty Indian off-spinner.
Reminded that his first captain Mohammad Azharuddin was banned by the BCCI on match-fixing charges, Harbhajan simply said, "saja uske liye".
"I don't know what happened then. I was young, in and out of the team. I don't know what they were doing at that time," he said.
© Copyright 2020 PTI. All rights reserved. Republication or redistribution of PTI content, including by framing or similar means, is expressly prohibited without the prior written consent.