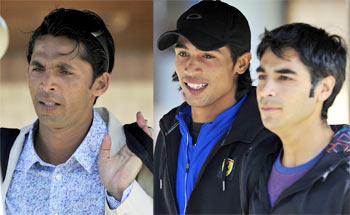 In a sensational twist to the spot-fixing scandal, former Pakistan opener Yasir Hameed on Sunday claimed that his team-mates were involved in fixing "almost every match" even as a fourth touring Pakistani player came under investigation in the scam which grew in proportion after fresh disclosures.
- Why are the other openers playing?: Hameed
Even before the dust could settle over the suspension of the tainted trio of Salman Butt, Mohammad Asif and Mohammad Aamir, British tabloid News of the World, came out with more explosive revelations.
While the tabloid gave startling details of the conversations and the modus operandi of the bookies, the report of a Sri Lankan player being investigated by the ICC's Anti-Corruption and Security Unit added to the crisis facing the game.
Hameed told the tabloid that he had been asked by a bookmaker to help fix a Test for 100,000 pounds, but he turned down the money and said his team-mates were fixing almost every match.
"They've been caught. Only the ones that get caught are branded crooks. They were doing it (fixing) in almost every match. God knows what they were up to. Scotland Yard was after them for ages", Hameed is quoted as saying in the sting interview which was released by the tabloid.
But within a few hours after the video of the interview was released, Hameed denied having given any such interview, saying he could never think of accusing his team-mates of fixing matches.
"I have told the team management that the newspaper is claiming that I have given them an interview. This is not correct. I deny it", he said.
The Pakistan Cricket Board (PCB) was huddled in an emergency meeting to take stock of the situation amid speculation that the team's tour of England could be called off to avoid further embarrassment.
Pakistan has all along maintained that its players are innocent and the entire episode is a conspiracy to alienate the country, which has not hosted any international cricket since last year's Lahore terror attack on the Sri Lankan team.
Pakistan's High Commissioner in Britain Wajid Shamsul Hasan has called the suspension of its players unethical and threatened to sue the ICC if the trio is eventually found innocent.
Hameed, on the other hand, could face disciplinary action from the ICC for violating its anti-corruption code of conduct which states that it is an offence if a player "fails to disclose to the Anti-Corruption and Security Unit (without undue delay) full details of any approaches ... that would amount to a breach of the anti-corruption code".
The tabloid also revealed how the ICC is now probing a fourth Pakistan touring player over "match-rigging claims". The newspaper did not name the player for legal reasons.
"The three suspended Pakistan players face a staggering 23 ICC charges between them -- each charge runs to six pages... Pakistan Test captain Salman Butt was warned five times about his responsibilities to report any irregular contact with outside agencies," it said.
The ICC said it would appoint an independent commissioner to look into the charges and any action would be taken on recommendation of the appointed commissioner.
ICC president Sharad Pawar said the governing body has not yet punished any of the three Pakistan players allegedly involved in spot-fixing and the trio have an opportunity to put their side of story.
"We have not punished anybody yet. We have to send a notice to that particular player but that notice is not a final decision. It is a means of giving him (player) an opportunity to explain his position," Pawar said in New York.
"This is not an action (the suspension), this is a sort of notice to them and an opportunity to explain. If he is not guilty then certainly he has the right to put his views," Pawar said.
The tabloid reported that Hameed provided a "devastating insight into the shady world of betting scams" and added that he refused bribes of up to 150,000 pounds from a corrupt bookmaker to throw matches.
Hameed claimed he lost his place in the team because of this refusal, while his corrupt colleagues reportedly splashed money on plush properties and expensive sports cars.
He spoke to the tabloid's undercover reporter in a Nottingham hotel, it said.
"It makes me angry because I'm playing my best and they are trying to lose. The guys that have got done have got themselves killed. They're gone - forget about them," Hameed said about the trio of Salman Butt, Mohammad Amer and Mohammad Asif.
Hameed said Asif, who has played around 50 matches, has built four mansions.
"Where did they come from? He has just built a house in Italian style in Lahore. You go there and you will think you are in Italy - that's how good his house is."
"It's because of all these wrong things that I was ousted, because I wouldn't get involved," the Pakistan opener said.
"I've met lots of people like that in the past and I refused. They offered me handsome money."
"They give you so much money that you can live out your dreams, buy a flash car. I've been offered huge amounts of money, up to 150,000 pounds," the cricketer said.
Since he would not get involved in all these, Hameed claimed: "That's why I was out of the team for two years - two years! Now God has punished them. I played in the (Lord's) match. Even though I flopped, these guys have been caught out".
He also talked about other games that might have been thrown.
"The ICC Champions Trophy, Rose Bowl, we lost a match against West Indies, do you remember?"
The match in question is a semi-final game in 2004 at The Rose Bowl in Southampton. The West Indies won the match by seven wickets despite posting just 132 runs after Pakistan ended 131 all out.
But in a bizarre u-turn, the 32-year-old Hameed completely denied having given the interview. "I am deeply disturbed. There is no truth in that report. I have never spoken to them. I can't even think of accusing my team-mates".
The scandal continued to become bigger with reports emerging of a Sri Lankan player's involvement.
The ICC's anti-corruption unit has been monitoring the unusual activities of a leading Sri Lankan player after team members alerted their skipper Kumar Sangakkara of his late-night outings with a man believed to be an illegal bookmaker.
Sri Lankan players passed on their concerns to the captain, who followed the ICC protocol by contacting the anti-corruption unit. The player has since been investigated by Sri Lankan police, although no charges have been laid, British daily The Guardian reported.
However, Sri Lanka Cricket has kept the entire matter away from the public spotlight by concealing the entire police investigation surrounding the player.
The player concerned has been under the ICC's scanner since the Twenty20 World Cup in England in 2009.
"The (anti-corruption unit's) working is not that of a policing agency or a newspaper. They have no power to arrest or seize, or carry out a sting operation.
"Getting international players to question the honesty of one of their own team-mates is a considerable challenge, but it is essential if the ICC is to root out corruption," Haroon Lorgat, the ICC's chief executive, said.
Sri Lanka Cricket said they have not received any official report regarding the reported player so far.
"Nothing has been reported to us so far, there is nothing for me to comment on this. Nothing has been reported officially but there are media reports about various allegations. So, the official report has to come from ICC," SLC secretary Nishantha Ranatunga said.