Harish Kotian reveals how next year's cricket World Cup, to be played on the sub-continent, will use the Umpire Decision Review System.
A Rediff.com exclusive!
Next year's 50-overs World Cup will use the Umpire Decision Review System, UDRS, the Board of Control for Cricket has confirmed to Rediff.com
World Cup tournament Director Ratnakar Shetty revealed that the system would be put in place for the mega event after broadcaster ESPN Star Sports agreed to implement the technology which was proposed to them by the International Cricket Council and also agreed by the three host nations.
"The World Cup is an ICC event and the ICC had already taken a decision that they are going to have the Umpire Decision Review System for the World Cup subject to the broadcaster accepting it. Only day before yesterday (September 4) ESPN has conveyed that they will be happy to do that," Shetty, who is also the BCCI's Chief Administrative Officer, told Rediff.com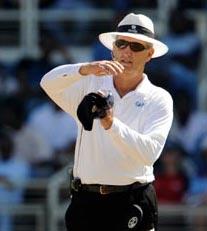 India rejected the use of UDRS during last month's Test series in Sri Lanka and for next month's home series against Australia.
Captain Mahendra Singh Dhoni does not seem to be a big fan of UDRS technology.
'It is still not a 100% correct system. Let us wait and see till the ICC comes up with a foolproof plan,' Dhoni had said before the Sri Lanka series.
However, with the clamour growing for use of technology from all quarters -- mainly the players -- the ICC had no option but to implement the UDRS at the World Cup.
Shetty revealed that the UDRS technology may not be in place for all matches, but for important games from the knockout stages onwards.
"It may not be there for all the games," he said, "but for some games we will have the umpire review system. I don't know which games, but maybe the knockout stage games. I am not aware of the details of the same. But one thing is certain that the umpire decision review system will be there for the World Cup."
ICC regulations state that the mandatory requirements needed for the UDRS system are: Super Slow Motion cameras, ball-tracking technology and a stump mike, which is clearly audible and can pick up edges.