Manish Pandey hogged the limelight by scoring the first century of the IPL II in South Africa and the young Royal Challengers Bangalore batsman is now eyeing upcoming Champions League Twenty20 in the Rainbow Nation to make his way into the star-studded India team.
The 20-year-old right-hander said he would be looking for consistency in CLT20, which starts in Johannesburg on Friday, to not only catch the eyes of the national selectors but also to fetch a fat contract in the Indian Premier League IV auctions slated for November.
"Champions League Twenty20 is a big stage for youngsters like me because consistent performance in this tournament will give me chance to knock the door of the Indian team which is a dream of every cricketer," Pandey told reporters after scoring a fifty in RCB's three-wicket win over Victoria Bushrangers in a practice game at the Wanderers.
"To add to it, it is the last season of IPL contracts. Doing really well here would not only earn me a good contract in the IPL IV auctions but would also give a boost to my career," he added.
Asked to compare IPL and CLT20, he said, "There is nothing much difference in IPL and CLT20 but I feel CLT20 is step ahead of IPL because here you have to compete against the best of the world."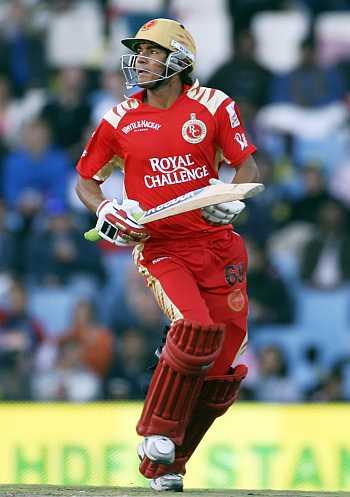 Pandey said that all the players in RCB team are in good spirit and have already acclimatised to the South African conditions after their 10-day camp in Pretoria under coach Ray Jennings.
"I think the team is doing very well, it is gelling well which is evident from the results of our practice matches. So far we have won all three of our practice games," he said.
He also expressed satisfaction with his own form and said this time around RCB, who qualified for the tournament after finishing third in IPL III earlier this year, is determined to go all the way.
"I am in a pretty decent rhythm and the wickets here are suitable to my style of batting. Even though the wickets are little slow here but that's not a big deal for me.
"We are determined to make sure that we are there and go on to win the tournament. The way we are going it should be a good tournament for us," Pandey said.
To the delight of a small contingent of Indian media RCB brand ambassador and Bollywood star Deepika Padukone was spotted in Bangalore's dugout at the Wanderers today, closely watching the proceedings along with team owner Siddharth Mallya.
Incidentally, Rahul Dravid and South African all-rounder Jacques Kallis did not play today's match. While Dravid sat out because of a mild fever Kallis has injury problems.
However, RCB team sources said there was nothing to worry as both the players opted out as a precautionary measure and would be fit for the tournament.