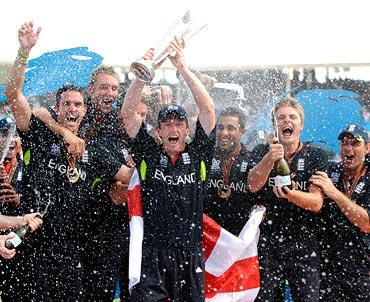 England's triumph in the World Twenty20 is sensationally the latest event to come under the match-fixing microscope.
Sun Sport has learned that the ICC is investigating the Pakistan squad that played in the event in the Caribbean in April and May.
England beat Pakistan by six wickets in the Super Eights stage on May 6 and went on to win a global trophy for the first time in more than 30 years of trying.
It is understood that two players have been asked for the details of the mobile phones they were using in the Caribbean and other information. Their responses so far are described as "unsatisfactory".
England coach Andy Flower could barely conceal his fury on Thursday because of the way England's ruthless displays in recent weeks have been "overshadowed".
He also accused the ECB of damaging attendances by jam-packing the schedule with too many matches.
The Sun quoted Flower, as saying: "There's a bit of a gloomy atmosphere and, with the sullying of cricket's name and reputation, that's understandable. It's a pity because we are playing some outstanding cricket. We've won two games comfortably and for the skills of the bowlers to be completely overshadowed is sad."
England has won seven T20 matches on the trot - a world record - but the milestone was met with indifference in Wales.
Flower added: "It was a strange atmosphere. To have two Twenty20 games in 48 hours at the same venue at this stage of the season might have been an error."