The International Cricket Council is committed to maintaining the sanctity of the game and will strive to root out corruption, ICC president Sharad Pawar said on Thursday.
Pawar told reporters after a meeting with Pakistan Cricket Board (PCB) chairman Ijaz Butt at his New Delhi residence that the ICC had the support of all the national boards in its efforts to clean up the game.
Pawar's comments come after three Pakistani cricketers -- Salman Butt, Mohammad Asif and Mohammad Amir -- were provisionally suspended amid accusations of spot-fixing.
"If someone has done anything wrong in cricket the ICC, and that includes the Pakistan board, will never tolerate any nonsense or any corruption in the game," said Pawar.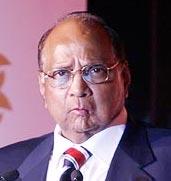 "We try to maintain the sanctity of cricket and in this process... every board, including Pakistan, is fully supporting ICC."
"Scotland Yard is in the process of investigating the entire episode. When the investigation is complete and suppose something is established, (there will be) no question whether ICC or the Pakistani board will take strong, ruthless action," Pawar said.
A fourth Pakistani player, bowler Wahab Riaz, has been questioned by British Police while his suspended colleagues have returned home on the condition that they would be available for further questioning.
Butt said the PCB did not ask for leniency for teenage pacer Amir.
"No demand has been given (to ICC seeking leniency). Everything depends on if anything is found against the player. As far as we are concerned, no tolerance at all."
During the meeting, Butt also requested Pawar, a former Indian cricket board chief and the country's Agriculture Minister, to help resume cricketing ties between the neighbours.