Explosive Indian batsman Yuvraj Singh has said that his body language while playing for the country is such that no bookie would dare approach him for match-fixing.
World cricket has been rocked by some serious fixing allegations against Pakistani players and both the Scotland Yard and the International Cricket Council are investigating the matter.
There are allegations that three Pakistani cricketers took bribes from a bookie to bowl no-ball during the Lord's Test against England.
But Yuvraj said no bookie can approach him for fixing.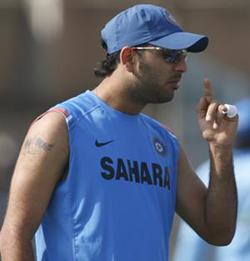 "Nobody can ever approach me for match-fixing. My body language is so strong for my country that nobody can lay a hand on me. For me, playing for India is a matter of pride. I will never want to stain my nation's honour," the dashing left-hander said.
Speaking on the match-fixing controversy Yuvraj said, "It is shameful both for the country as well as the individual. People get into wrongdoings when they are young, but one must be honest. A good night sleep is more important than money.
"The youngsters must look up to their seniors for advice like we used to take help from Sachin (Tendulkar), (Rahul) Dravid and (Sourav) Ganguly," he told news channel India TV in a programme.
Yuvraj, whose lack of form over the past one year saw him lose his place in the One-Day squad, said, "I suffered too many injuries in the last one year. First, it was the knee injury and then I had a wrist injury. I also suffered three fractures.
"In fact, I have been facing ups and downs in my career for the past 10 years just like in my life. But there has never been any dearth of effort on my part. Though I'm not in form at the moment, I will be back very soon," Yuvraj said.
Asked about the former cricketers who often advice him to change his style, Yuvraj said, "I listen to everybody but I do what I feel like. I was told to leave my attacking frame of mind and my aggressive tone. But If I leave my aggressive tone and attacking form, I don't think I would be successful.
"In cricket, the success rate for a batsman or a bowler is less than 50 per cent. I don't think there is any batsman at the moment who can score runs in every match, except for some exceptional players like Sachin and (Ricky) Ponting."
Asked about his world-record feat of hitting six sixes in an over in the T20 World Cup in 2007, Yuvraj said the verbal dual with Andrew Flintoff had spurred him to go after the English attack.
"Verbal battles always bring out the best in me, particularly when I'm playing for my country. During the England-India match, I got into a verbal dual with Flintoff and wanted to take revenge. And when I hit Stuart Broad for six sixes I thought hisaab barabar ho gaya bilkul (account has been settled)."
Admitting that he is emotional, Yuvraj said, "I'm emotional but I never show. I have learned many lessons in my life. I now keep my emotions in check."
Asked why the Indian cricketers were not invited to M S Dhoni's wedding, Yuvraj said, "Ask him. Whenever we ask him, he tries to avoid it by saying that he has to go to a press conference or to the nets. I'm also not going to invite him to my wedding."