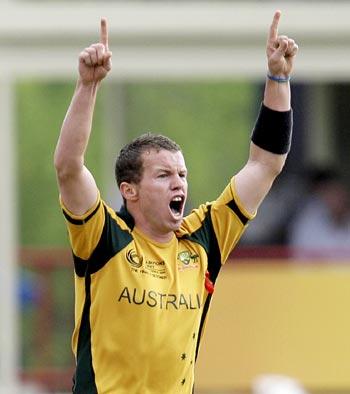 Australian fast bowler Peter Siddle was fined 750 dollars after being expelled by the umpire from the Victoria Bushrangers' attack during their tense win over Chennai Super Kings.
Siddle had enjoyed an impressive first spell, but four balls into the last over of his second spell, Siddle thought he had cornered the Super Kings' top-scorer, Murali Vijay, into spooning a return catch.
But umpire Marais Erasmus overruled the dismissal because it was a fast full toss above waist height, The Age reports.
Siddle was given a warning, but his next ball was also a high full toss that was dispatched over the gully boundary by Vijay, although it did not attract any more censure than a no ball because the ball was away from the body.
But on the scheduled last ball of his over, Erasmus finally barred Siddle from bowling for delivering a dangerous full toss just above the hip.
Siddle was cited for the deliveries by match referee Roshan Mahanama.
At a hearing after the match, he admitted to a level-one code of behaviour breach, for "conduct contrary to the spirit of the game", was given an official reprimand and was also fined.