Indian skipper Mahendra Singh Dhoni [ Images ] and Suresh Raina [ Images ] on Wednesday joined the Test squad ahead of the first Test against Australia [ Images ] in Mohali after completing their Champions League [ Images ] Twenty20 [ Images ] engagements for Chennai Super Kings [ Images ] in South Africa [ Images ].
Australian pacer Doug Bollinger and batsman Mike Hussey [ Images ] also joined their squad after CSK's title triumph in South Africa just two days before the opening Test gets underway.
Dhoni and Raina, who reached Chandigarh at 11 am, are left with little time to get a feel of the conditions before the first Test starts while Murali Vijay [ Images ] is expected to reach later in the day.
Bollinger and Hussey arrived in Chandigarh on Tuesday leaving them with a couple of days to prepare and adjust to the conditions ahead of the first Test scheduled for Friday.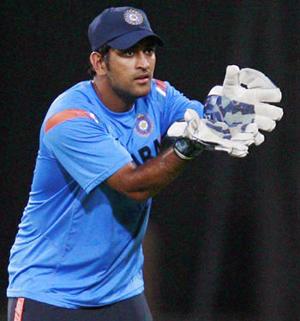 "We will make sure that we make the most of the two days and get ourselves prepared as best as we can," said Bollinger.
"It's not ideal, but it's the best we can do and make sure we get ourselves prepared as best we can," he said.
"Playing for Australia, that is my priority. If you feel your body needs rest, play less IPL and the Champions League Twenty20," Australian vice-captain Michael Clarke [ Images ] had said on Tuesday when asked to comment on too much cricket being played these days.
The Australians, who took a break from the practice session on Tuesday, were at the nets on Wednesday while it will be the fourth day when the Indian team members will be having their practice after most of the team had arrived in Chandigarh last week.
The visitors also played a three day warm-up game against the Board President's XI led by Indian opener Gautam Gambhir [ Images ] that ended in a draw.
India's [ Images ] pace spearhead Zaheer Khan [ Images ] needs 31 runs to complete 1,000 runs in Test cricket. He has so far featured in 72 Tests while Sachin Tendulkar [ Images ] is inching towards the 14,000-run mark and has so far accumulated 13,837 runs from 169 Tests.
From the Aussie side, Simon Katich [ Images ] and Hussey are inching towards the 4,000-run mark.