West Indies captain Chris Gayle has turned down a central contract with the West Indies Cricket Board.
Gayle is the third prominent West Indies player to opt out of a central contract, after all-rounders Kieron Pollard and Dwayne Bravo did the same earlier this month.
Despite not signing a contract the Board says each player is committed to the West Indies.
"Chris Gayle and Dwayne Bravo, who were both offered A contracts, and Kieron Pollard, who was offered a C contract, have indicated to the WICB that they were not minded to take up the offers," according to a statement from the board.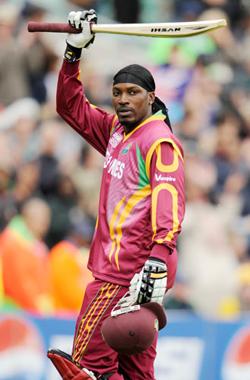 "The WICB has written to Gayle, Bravo and Pollard seeking details of the issues which caused them not to take up the offer in an attempt to understand same and so that the issues can be addressed for future contract offers.
The contracts on offer had required players to make themselves available for the West Indies team at all times, something that the three players - all of whom have forged prominent careers in domestic Twenty20 competitions including the IPL - were reluctant to do.
The board release subsequently confirmed that Gayle, Pollard and Bravo would be available for selection in the West Indies team if they meet the board's criteria which makes it mandatory for players to participate in regional tournaments, unless under "exceptional circumstances", to be in contention.