'It was horrible watching from the dressing room'
Last updated on: July 13, 2009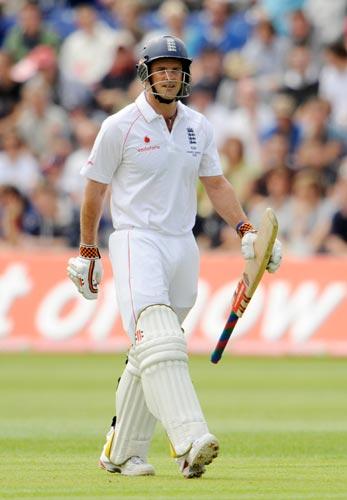 England last pair Jimmy Anderson and Monty Panesar proved their country's unlikely batting heroes when the hosts defied the rules of probability by drawing the first Ashes Test against Australia on Sunday.
England captain Andrew Strauss, who made a painstaking 54-ball 17, he had not thought England would grab a draw against all the odds until there were only three overs left.
"Our intentions were good," Strauss said.
"We weren't out there to waste a huge amount of time. Those two were playing pretty well, the situation was that Australia didn't take the final wicket. All credit to them because they withheld a hell of a lot of pressure there. It was just horrible watching from the dressing room to be honest"
Pietersen was dismissed early
Last updated on: July 13, 2009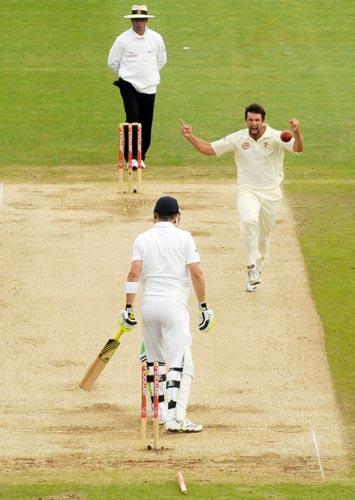 England's batting mainstay, Kevin Pietesen, who made a splendid 69 in the first innings, failed to replicate his efforts in the second.
The South Africa-born batsman had made only eight when he witnessed his stumps rattled by Ben Hilfenhaus.
His dismissal reduced England to 31 for three by the 11th over.
Hilfenhaus was Australia's best bowler with figures of three for 47. 
Flintoff played well but...
Last updated on: July 13, 2009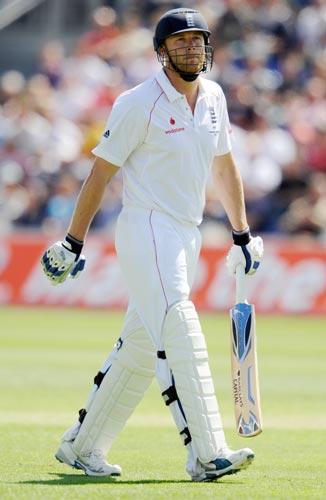 Andrew Flintoff made a patient 71-ball 26 and helped Paul Collingwood put on 57 runs for the sixth.
But his dismissal at a crucial juncture tilted the balance heavily in favour of the visitors.
England were precariously placed at 127 for six at Flintoff's dismissal.
Collingwood waged a lone battle
Last updated on: July 13, 2009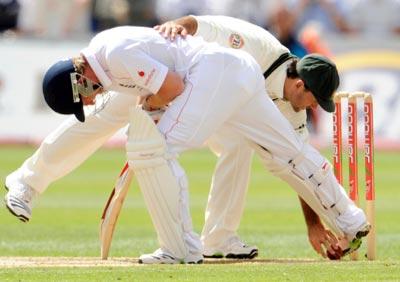 Australia, who had dominated the match in all departments for the first four days, were moving inexorably to what appeared an inevitable 1-0 lead in the five-match series as the England batsmen found new ways to gift their wickets.
Paul Collingwood was the exception, fighting a lone battle for the best part of six hours.
But when he was caught for 74 England still needed six runs to make Australia bat again with a minimum 11.3 overs left in the day's play.
'I was pretty nervous'
Last updated on: July 13, 2009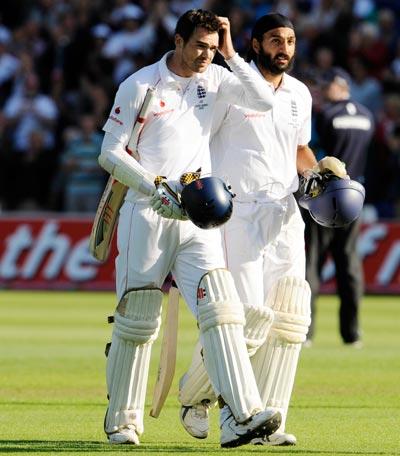 The England dressing room realised belatedly that James Anderson and Monty Panesar needed to bat out the final hour, not just the minimum overs remaining, and sent out the 12th man then the physiotherapist ostensibly to convey the message to the batsmen.
However, unlike his fielding, Panesar can bat and he played resolutely straight to everything the Australian bowlers could hurl at him.
"I was pretty nervous but Jimmy and I were communicating pretty well," Panesar said.
"We just said to each other play the ball straight and watch the ball hard. Now we're sitting here with a draw."
The result was an unexpected bonus for England going into the second Test starting at Lord's on Thursday where Australia have not lost since 1934.
'We weren't good enough to finish it off'
Last updated on: July 13, 2009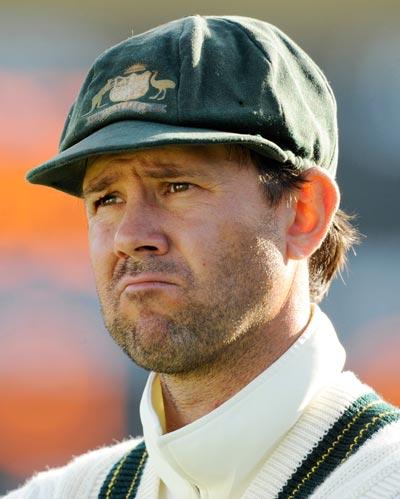 Australia captain Ricky Ponting was palpably left despondent but put up a brave face.
"I thought our bowlers worked exceptionally hard on a surface that offered nothing. We had our chance with Panesar and Anderson out there but unfortunately we weren't good enough to finish it off," Ponting said.
But deep inside he knew Australia had lost a glorius opportunity.
Source:
© Copyright 2021 Reuters Limited. All rights reserved. Republication or redistribution of Reuters content, including by framing or similar means, is expressly prohibited without the prior written consent of Reuters. Reuters shall not be liable for any errors or delays in the content, or for any actions taken in reliance thereon.