Former India Test captain Anil Kumble will join his former teammate Sourav Ganguly behind the microphone as an expert analyst for ESPN Star Sports in the ICC World Twenty20 which begins in England on Friday.
The ace Indian spinner, who retired from international cricket after carving his name on 619 Test wickets in a career spanning 17 years, will join the ESPN STAR Sports commentary panel which also includes Ian Chappell, Ian Bishop, Wasim Akram, Sanjay Manjrekar, Harsha Bhogle and Nasser Hussain.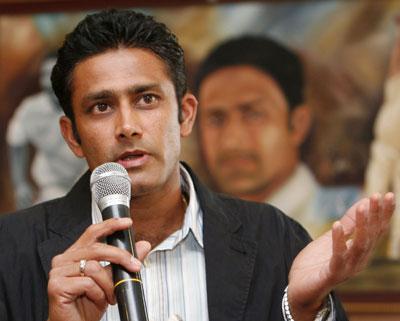 "I have always wanted to contribute to the game of cricket whether on or off the field. My association with ESPN STAR Sports poses an interesting challenge for me as I have never tried serious analysis before," Anil Kumble said.
"The T20 format does not leave much of a breathing space for both the player as well as the viewer as the match situation changes really fast. This fast format will surely open up many facets and nuances for the TV expert which I am sure will prove to be an enjoyable experience," he added.
On Team India's chances at ICC World Twenty20, Kumble said, "India has an extremely talented side and they have it in them to retain the tournament but the concept of Twenty20 does not make any team a favourite just because they look strong on paper.
"T20 is still a new concept, an evolving game, where every player is learning match by match. So anything is possible but surely India will have to guard against any form of complacency and each and every individual will have to contribute. Australia and South Africa among others will also pose a strong challenge to India at the tourney."
The announcement comes close on the heels of the signing of former skipper Ganguly on Wednesday.
"Anil is one of the greatest spin bowlers of all time. He has recently hung up his boots but the wealth of experience in handling all the great batsmen of the last two decades will surely come in handy when he is behind the mike," said RC Venkateish, Managing Director of ESPN software India.