Praveen jolts Delhi early
May 20, 2009 16:05 IST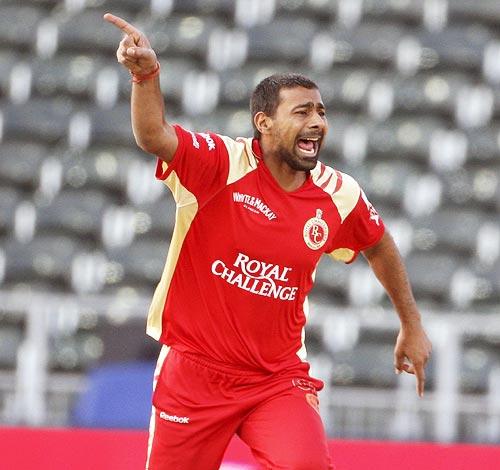 Royal Challengers Bangalore fast bowler Praveen Kumar celebrates after dismissing Delhi Daredevils opener Virender Sehwag during the Indian Premier League match, in Johannesburg, on Tuesday.
Kumar got the early break for Bangalore, dismissing Sehwag and Mithun Manhas for ducks in the first over.
De Villiers leads rescue act
May 20, 2009 16:05 IST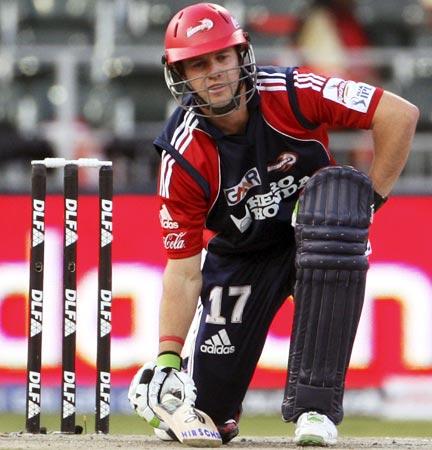 South African AB de Villiers, who is chasing Australia's Matthew Hayden at the top of the run-scorer's list, lifted Delhi to 63 for three at the halfway stage before Roelof van der Merwe knocked off his off-stump.
De Villiers scored a quick 28, that included three boundaries.
Kumble restricts Delhi
May 20, 2009 16:05 IST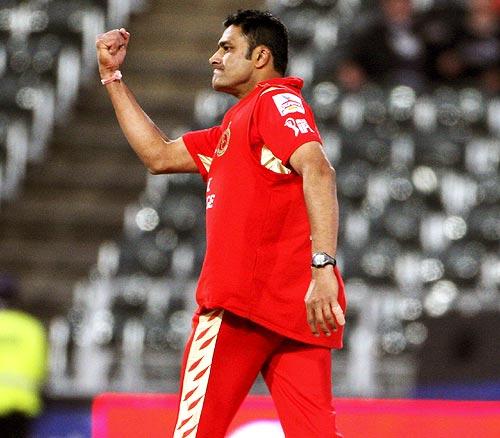 Royal Challengers Bangalore captain Anil Kumble is delighted after getting the wicket of Andrew McDonald.
Dinesh Karthik chalked up 31 and Yogesh Nayar made 20 as Delhi finished up on 134 for seven in their 20 overs.
Nehra claims early wicket
May 20, 2009 16:05 IST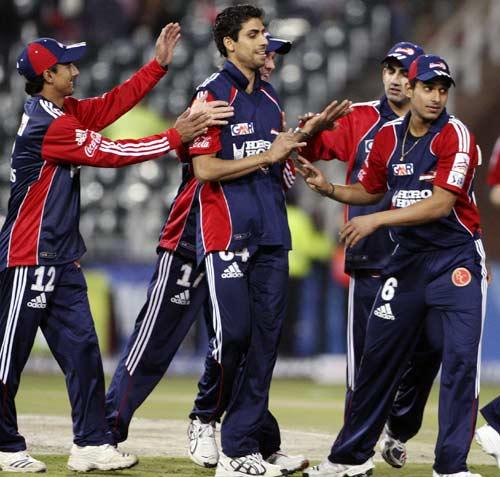 Delhi Daredevils fast bowler Ashish Nehra (centre) celebrates with team-mates after dismissing Robin Uthappa.
Bangalore lost Uthappa (1) to left-arm fast bowler Nehra in the first over but Jacques Kallis and Rahul Dravid steadily built momentum with a stand of 70 off 69 balls.
Kallis guides Bangalore to victory
May 20, 2009 16:05 IST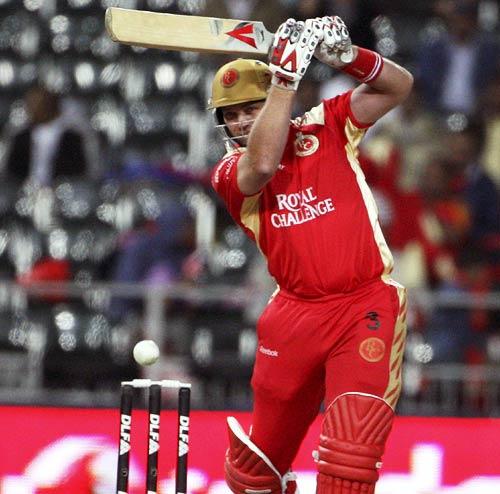 Kallis (58 not out) carried his bat through the innings, hitting two boundaries and two sixes from 56 balls, to steer Bangalore to their seventh win from 13 matches.
Kallis first shared a 70-run stand from 69 balls for the second wicket with Rahul Dravid (34-ball 38) and then combined with Ross Taylor (12-ball 25) for 29 runs from just 14 balls for the third wicket to take Bangalore home with one over to spare.
'We took one game at a time'
May 20, 2009 16:05 IST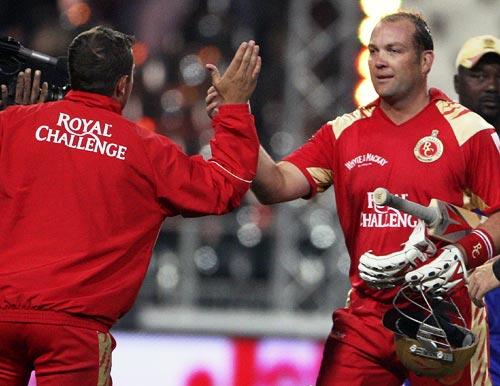 Kallis is congratulated by a team-mate after winning the match.
Bangalore, now at fourth place in IPL table with 14 points to their kitty, need to win their last match against Deccan Chargers at Centurion on May 21 to make sure that they make it to the semi-finals.
"We took one game at a time. We did not look at the table, where we stand and what will happen. We just went out to play to win a game of cricket. That has helped," Kumble said after the match.