'I knew I belonged to this level after my second Test'
Last updated on: November 13, 2009 20:45 IST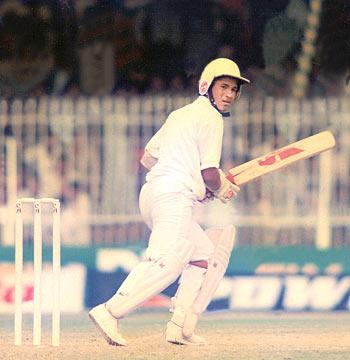 India's batting maestro Sachin Tendulkar rated his blistering 75-ball knock of 98 against archrivals Pakistan in the 2003 World Cup at Centurion as one of the most memorable innings of his life.
"I remember a few innings and important among them is the innings against Pakistan in the 2003 World Cup. We won that match (by 6 wickets)," said Tendulkar, as he walked down memory lane in Mumbai on Friday in celebration of 20 years in international cricket.
Tendulkar made his international debut in the first Test against Pakistan at Karachi on November 15, 1989 and it was on the same tour that he made his debut in ODIs too before going on to set world records in both formats of the game.
Emphasising that earning his first India cap is the most cherished moment of his glittering career, Tendulkar mentioned a knock of 59 in his second Test at Faisalabad against Pakistan as the turning point in his career. That knock, he says, gave him the self-belief that he belonged in the highest league.
"Twenty years is a long time and I have many special moments and it would be difficult to count them. But the first one (Test), the first day walking out in the playing eleven in Pakistan probably was the greatest moment," he said.
"In the second Test at Faisalabad I made 58 or 59. It was the turning point in my career as I felt confident after that innings that I belonged at this level after not doing well in the first Test," he said.
'Playing for the country was my childhood dream'
Last updated on: November 13, 2009 20:45 IST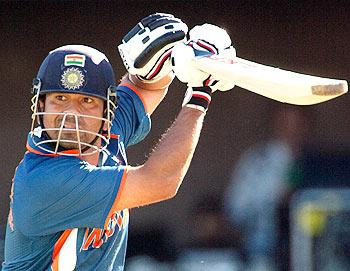 Asked how he still maintains his passion for the game after playing for so long, Tendulkar said it comes naturally to him.
"Cricket lives in my heart. I enjoy playing cricket. I have not made any special effort [to be passionate]. I enjoy every moment of the game," said the batsman who has scored the most number of runs and centuries in Tests and ODIs.
"Playing for the country was my childhood dream and I have fulfilled my dream. I am fortunate to have played for my country for so many years," he said.
Tendulkar maintained that he always like to celebrate team victories rather than individual glory if the latter does not lead to India triumphing.
"You feel bad (if the team loses) even if I had done well. I play for the team. Even if you have not contributed when the team has done well you want to jump in joy."
Asked what changes have occurred in the game in the 20 years of his career, Tendulkar picked the advent of Twenty20, assistance of technology for umpiring decisions and batting innovations.
"From 1989, plenty of things have happened and the game has changed a lot with the introduction of the third umpire and Hot Spot system to the introduction of Twenty20," he said.
'There is always room for improvement; everyday is a fresh challenge'
Last updated on: November 13, 2009 20:45 IST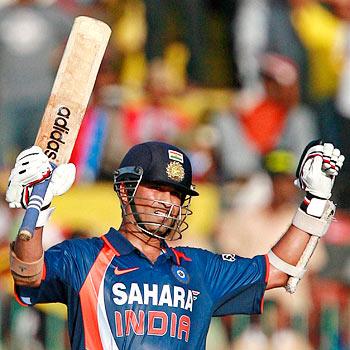 Tendulkar credited the shortest format of the game for the innovative shots that are being played even in Test cricket now by the players.
"Because of Twenty20 we see a lot of innovative shots occasionally used even in Test cricket. There is a lot more risk taking by the players now. Because of this, the total in the one-dayers have increased. Nowadays, 275 on a decent pitch is not a great score.
"Also in Tests there are a lot more results now because of more aggressive batsmen," he pointed out.
He said he has also changed with the time, as it happens in other walks of life.
"Along with them I have also changed. I try to make myself a better cricketer. There is always room for improvement. It is a never ending process as everyday is a fresh challenge. You have to be on your toes," he said.
He advised younger cricketers to be dedicated and disciplined and remain focused.
"Dedication, discipline and keeping your focus on the game are very important. A combination of factors made me remain focused on the game. My parents, brothers, sister and wife supported me all through."
"My mother does not know cricket but will pray for my success and the country. I discuss cricket with my elder brother Ajit a lot. He knows my batting better than anyone else in the world."
'Support from the fans was immense'
Last updated on: November 13, 2009 20:45 IST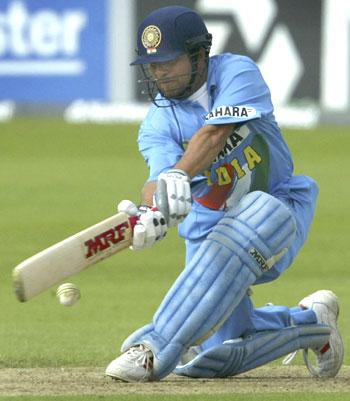 Tendulkar thanked the millions of cricket fans in the country for showering him with love.
"Above all, the affection and support from the cricket fans of the country was immense. You need people to share your success and I have more than a billion people. That is more than enough for me," the ace batsman said.
Since his debut Test against Pakistan in 1989, Tendulkar played 159 Tests, scoring 12,773 runs, with 42 centuries at an average of 54.58.
From the 436 ODI matches he played since December 19, 1989 against Pakistan in Gujranwala, he amassed 17,178 runs, at an average of 44.50, including 45 hundreds.
'Rajbhai's guidance meant a lot'
Last updated on: November 13, 2009 20:45 IST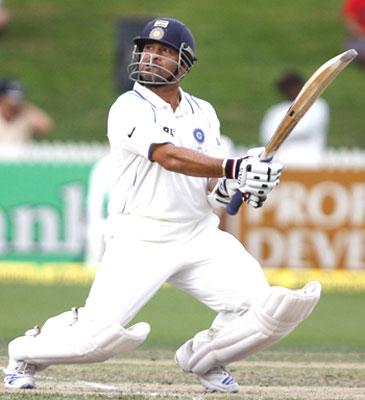 Asked about absence of any aggressive postures from him like some other cricketers worldwide, the master batsman replied that he is aggressive inside and does not need to show it in his body language.
"Aggression should be inside. It has to benefit you and not benefit your opponent. You can see aggression in the eyes of players," he said.
He recalled how former Board of Control for Cricket in India president, the late Raj Singh Dungarpur, had walked up to him before the team for the 1988-89 tour to the West Indies was to be announced and told him he would not be on the visit as they felt he was not yet ready.
"There was talk when we (Mumbai) were to play the Ranji Trophy semi-final that I could be on the West Indies tour for which the team was to be announced. Rajbhai, the chairman (of selectors) came to me during nets and said I would not be going as it was too early.
"He told me to concentrate on preparing for my SSC exam and said there was the Irani tie coming up and good things will happen. His guidance meant a lot," he recalled.
© Copyright 2022 PTI. All rights reserved. Republication or redistribution of PTI content, including by framing or similar means, is expressly prohibited without the prior written consent.