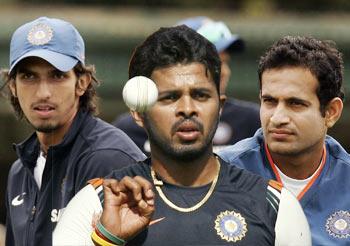 With no domestic cricket taking place for the next few months, it is imperative that the BCCI does a rethink of its decision to disallow players who have not been selected in the Indian team or the India 'A' team from traveling to England to play county cricket, says Senior Associate Editor Harish Kotian.
Not so long ago, Ishant Sharma, S Sreesanth, R P Singh, Munaf Patel and Irfan Pathan were an integral cog in the Indian bowling attack.
But things changed drastically over the last couple of seasons. All these fast bowlers were not only dropped from the Indian squad, but also ignored for the upcoming India A tour to England.
Worse, all of them, and a few others, were denied permission to play in the ongoing English county season.
Piyush Chawla (Sussex), Irfan Pathan (Essex and Yorkshire), S Sreesanth (Warwickshire), Ishant Sharma (Kent and Hampshire), Amit Mishra (Worcestershire) and Virender Sehwag (Northamptonshire) evoked interest from the counties, but were forced to turn down offers.
Over the years, Indian players, particularly fast bowlers, used English county cricket as a good tool to prove fitness after injury lay-offs or keep themselves in shape during the Indian  off-season.
But, strangely, this year the Board of Control for Cricket in India refused all it's contracted players the No-Objection Certificate (NOC) to play in England. Their reasoning -- a season of county cricket, which stretches to nearly three months, can take a toll on the players with a busy international schedule ahead and also keeping the 2011 World Cup in mind.
The BCCI want all its players to train at the National Cricket Academy (NCA) under a team of specialised coaches and physical trainers.
"We want our players to use their time in training and fitness. That is why we have said no to all our contracted players.
"There is lot of pressure on overseas players in county cricket. And the fringe players will not get enough rest," BCCI Chief Administrative Officer Ratnakar Shetty had told The Indian Express earlier this month.
But, if they don't get a chance to prove their fitness or form by playing in competitive tournaments like the English county, how will these pacers impress the selectors?
This same BCCI never asked any of the franchises to rest the contracted players during the hectic third season of the Indian Premier League last month.
A player, speaking on condition of anonymity, said he approached the Board several times for the NOC, but the powers-that-be did not budge.
"At the end of the day, I will go by whatever the BCCI decides. I was approached by an English county, but I rejected their offer thinking that I would be playing international matches for India.
"But that has not happened, so now I would be happy if they give me the NOC. If they allow me, I will go and play county cricket, else I will be training in India for the next few months to get myself in the best shape for the upcoming season," the player told rediff.com.
The player's expectations are not surprising, since the pleasant English summer provides the perfect stage to train and play cricket unlike India, where summer is burning hot and that follows three months of non-stop rain. To add to that are the benefits of playing in a professional environment, which cannot be discounted.
The best example that of Zaheer Khan, who returned to the national team after a successful season in 2006 with Worcestershire, where he took 78 wickets and since emerged the spearhead of the Indian bowling attack.
Even Piyush Chawla made an impact playing for Sussex last season, when he took 36 wickets and made important contributions with the bat.
Former selector Kiran More is if the opinion that players who are on the fringe of selection to the national squad should be encouraged to play county cricket, since there is no domestic cricket happening in the country at that time.
"Playing in county cricket helps to improve fitness. It also gets your bowling rhythm back, because you are playing non-stop cricket. It is very unfair on players like Irfan [Pathan] or Sreesanth that they were not given permission, because a fast bowler benefits a lot by playing in English conditions.
"County cricket is an excellent platform for the fast bowlers because the conditions are very helpful at the start of the season; if they pick a lot of wickets then they can take that confidence with them while playing for the Indian team," More told rediff.com.
"Everyone, including Sachin Tendulkar, Rahul Dravid, Sourav Ganguly and Zaheer Khan, have tried their hand in county cricket to get their form back or keep themselves fit during off-season. So why suddenly has the BCCI stopped its players from going to England?" he asked.
Even Zaheer had admitted that it was the county stint that helped him make a comeback to the Indian squad.
"It (the county stint) helped me grow as a cricketer. You play six days a week and my bowling fitness improved a lot. It helped me get into a routine which is very helpful for your cricket. You get to experiment with a lot of things, and if you are doing things well you are able to continue those things over a period of time. It definitely gave me a boost in confidence and county is good, competitive cricket," Zaheer had said after a successful stint with Worcestershire in 2006.
The BCCI's policy of forcing its players to train at the National Cricket Academy rather than play county cricket makes no sense at all. After all, playing even a few competitive matches in the county circuit is better than just lumbering up in the nets at the NCA.
Photograph: Reuters