Jadeja picks 5 wickets
August 06, 2017 14:39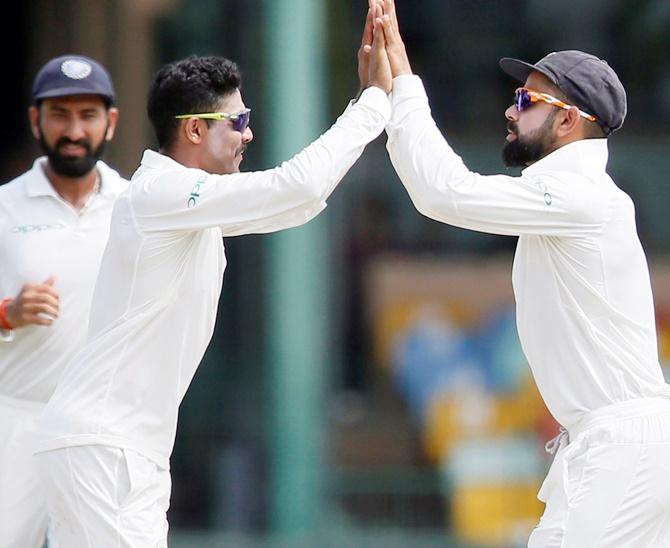 SL 386 (116 ovs) and 183 (49.4 ovs)
India 622-9 decl (158 ovs)
|
Scorecard
India win by an innings and 53 runs to take the three-match series 2-0.
Ashwin continues and he picks up the last wicket.
He tosses it and Pradeep is caught by Dhawan.
Lanka's No 11 bat Nuwan Pradeep comes in to bat despite an injury and he gets off the mark with a single down to deep mid-wicket.
Pandya continues from around the wicket.
Dickwella is foxed by Pandya's yorker. He tries to run it down but hits it straight into the hands of Rahane at gully.
Dickwella gone for 31 and India are well and truly on the door step of another Test win.
Just when it looked like Herath and Dickwella were putting up a late resistance and Lanka are not giving up, the breakthrough happens after 10 overs.
Tea break has postponed by another half-an-hour.
Pandya continues, Herath tries to slog but misses the ball and two runs come off the over.
Ashwin continues and he bowls a tidier over giving only 1.
Pandya brought back into the attack and bowls around the wicket to Dickwella, who slogs it down to mid-wicket for a four.
Ashwin taken to the cleaners here. Dickwella comes down the track, gets to the pitch of the ball and plays an on drive for a boundary.
Dickwella then sweeps down to third man for a couple.
Both batsmen employing the sweep to good effect against Ashwin and picking up 9 runs in that over.
Jadeja continues and he gives away just one run.
Ashwin continues and the 350 is up for Lanka as Dickwella plays a reverse sweep for a single.
Now Herath sweeps it for a four to long leg.
It's a carrom ball and Herath slog sweeps for a boundary and then he reverse sweeps for another four. That's 13 runs off the over.
Jadeja continues and Dickwella reverse sweeps behind deep point for a four. Herath sees him off safely as 5 runs come off the over.
Kolhi calls on Ashwin to put the final nails in the Sri Lankan coffin.
The off spinner gets some good turn and bounce to keep Herath guessing and that is a maiden over.
« Back to LIVE
TOP STORIES