Dickwella out for 13, SL lose early wicket
August 27, 2017 14:51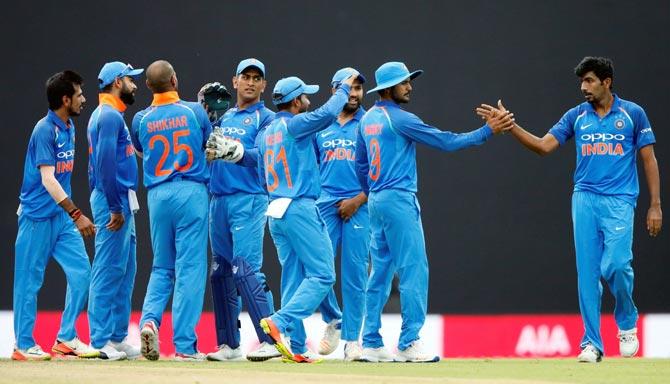 SL 18-1 (4 ovs) vs India | Scorecard
Sri Lanka have a new opening pair as the in-form Niroshan Dickwella walks out to open the batting with Dinesh Chandimal, who replaced the injured Gunathilaka.
Bhuvneshwar Kumar on the mark from the very first delivery. The first ball is full and moves away slightly as Dickwella goes after it but gets an edge which flies past the slips and Kedar Jadhav messes up on the boundary to give away a four. The same shot off the next ball as Dickwell again gets an edge but this time Jadhav stops it cleanly for just a single.
Chandimal is beaten all ends up as he looks to turn it across the line on the leg side but misses.
Jasprit Bumrah to bowl the second over. Dickwella clips the first ball on the leg side for two runs followed by a couple of singles. Dickwella is beaten off the last ball by a full delivery but the LBW appeal is turned down with the ball pitching well outside the leg stump.
India's fielding looking a bit shy. This time Bumrah fumbles at thirdman to give Chandimal two runs before he takes one.
Dickwella flashes his bat at a wide delivery from Bhuvneshwar but is beaten before he pulls the next ball square for a four. He edges the last ball but it flies past a diving Rohit Sharma in the gully.
Bumrah strikes early with the wicket of Dickwella, who is beaten by the yorker and is given out leg before wicket for 13.
He has a brief chat with his partner and asks for the review, which turns out to be a good decision. The ball had pitched outside the leg stump which means the on-field umpire's decision is overturned and Dickwella survives.
A few deliveries Bumrah again beats Dickwella who has a wild swing but misses and is struck in front of the stumps. This time the umpire turns it down but a confident Bumrah asks his captain to take the review.
The decision is overturned now as Dickwella is given out leg before wicket for 13.
Bumrah nearly picks another as new batsman Kusal Mendis is beaten by one which swings away and also bounces a bit more.
« Back to LIVE
TOP STORIES