Chandimal, Mathews steady Sri Lanka
December 04, 2017 10:02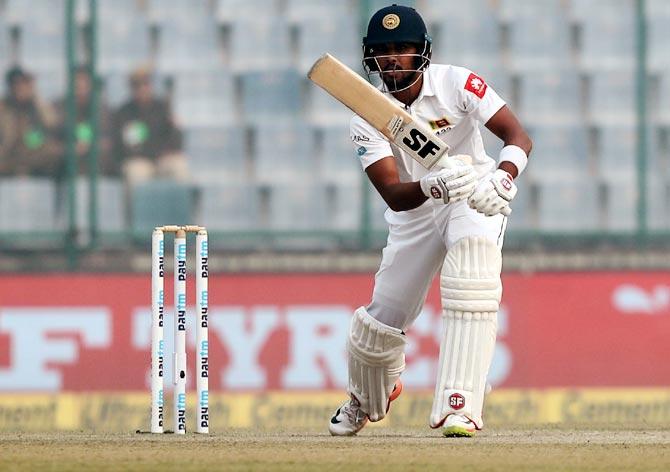 SL 146-3 (50 ovs) vs India 536-7d | Scorecard
Pace from both ends as Mohammed Shami comes into the attack. Mathews looks to pull a short ball but is unable to get hold of it as he mishits it on the leg side for two runs.
Shami tries another short ball as Mathews stays back and tucks it off his hips fine on the leg side for a four.
Shami responds with another quick bouncer outside the off-stump which Mathews leaves alone.
Ishant looking to maintain a good line outside the off-stump as Chandimal offers no stroke to the first two balls and then defends the third before taking a single on the leg side.
Shami bowls another good bouncer as Chandimal is hit on the arm. He initially looks to leave the bouncer expecting it to go over him before at the last minute he finds that the ball is coming straight at him as he tries to play but is hit on the arm.
Shami bowls one full as Chandimal gets the edge but it falls short of second slip. He tries another bouncer and this the Sri Lankan captain avoids it quite easily.
Change in the bowling as Jadeja replaces Ishant. Mathews takes a single from the second ball before Chandimal comes down and flicks the spinner through midwicket for a four.
Sri Lanka have done well to weather the storm in the first half an hour, especially from Shami, to reach 146 for three in 50 overs, still trailing India by 390 runs.
« Back to LIVE
TOP STORIES