Moeen Ali gone
June 06, 2017 18:22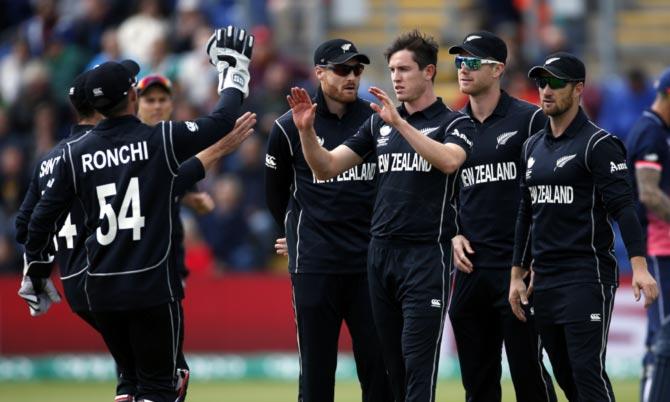 England 240-6 (42 ovs) vs New Zealand |
Scorecard
Spinner Santner comes into the attack.
Buttler plays the ball to cover and gets two for it.
Santner bowls a wide.
Guptill misfields at cover and Buttler gets one run.
Can England up the ante with ten overs to go?
It's Powerplay 3 and Anderson starts with a wide.
Anderson bowls short and Moeen punishes it. He hammers the ball for a six over square leg. He then hits it over extra cover for a couple.
Boult takes a blinder at backward square leg. Anderson bowls on leg side, Moeen tries to get it past the fielder but cannot go past Boult.
Rashid comes to the crease and Anderson bowls on leg side, the ball races down to fine leg for a four.
Rashid then gets two runs down to square leg.
Boult continues.
Buttler gets a quick single to mid-off.
Another short ball and Moeen pulls it down to backward of square for a single.
Buttler then gets a single down to third man.
Moeen then pulls another short delivery to the man at deep square leg.
Anderson continues and he gives 5 runs in his first four deliveries.
It's an inside edge that goes one bounce to keeper Ronchi.
« Back to LIVE
TOP STORIES