Root, Hales going nicely
June 06, 2017 16:36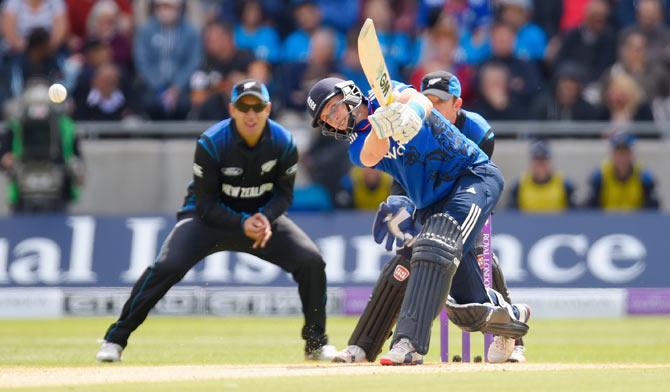 England 104-1 (20 ovs) vs New Zealand |
Scorecard
Anderson gives Jimmy Neesham the ball.
Root gets the edge and a streaky boundary through slips as the hundred comes up.
Root plays out two dot balls next.
Root plays it past Broom at point to run a single.
Hales plays a dot ball.
Hales tries to go after the ball, gets no contact. That is five runs off the over.
Milne continues.
Hales gets a run with a pull shot over mid-wicket.
Nice bouncer, Root ducks, ball goes safely to the 'keeper.
Good fielding by Broom at point, not allowing Root to get any runs.
This time, Root gets it past the man at point for a single behind Broom.
Another bouncer to end the over that Hales ducks safely under.
Root comes to the party, Root dances down, gets to the pitch of the ball and dispatches it for a maximum over mid-on.
Santner follows that up with three dot balls.
Root sweeps it fine for a boundary.
The last ball of the over, let's see what happens. Nice dot ball but that is ten big runs off the over.
Milne continues after the drinks break.
It's a dot to begin with. Hales plays a defensive shot down to the leg side.
An identical shot follows.
A nice bouncer here and Hales ducks. That is the fourth dot ball of the over.
Nice length there, angled into the leg stump and Hales gets the inside edge on to the pad.
Milne bowls the second bouncer and doesn't get away with. No ball called.
Hales pulls the last delivery for a couple of runs down the leg side. That was a nice, quiet over, save the last two deliveries.
« Back to LIVE
TOP STORIES