Pollard out for 28, Mumbai 5 down
April 12, 2018 21:11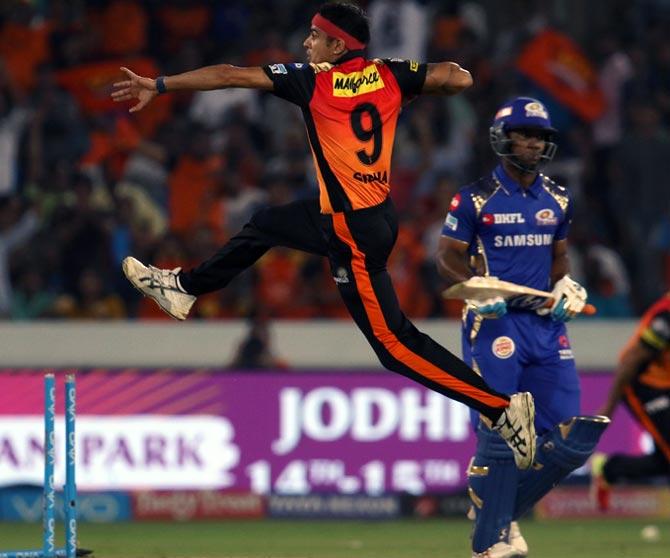 Mumbai 111-5 (15 ovs) vs Hyderabad | Scorecard
Stanlake comes back into the attack. He tries the short ball but Suryakumar manages to pull it confidently through midwicket for a four before he takes one.
Kieron Pollard is beaten twice as Stanlake gets a bit of away movement before he comes down and clips the last ball to deep square leg for one to take the score to 78 for four in 10 overs.
Rashid, who conceded just a single in his first over, comes back into the attack. He keeps up the good work with the ball, bowling four straight dot balls to Pollard, who then comes down the track and smashes it back over the bowler's head for a four.
The last ball is again a dot ball as Rashid bowls another over with five dots, having conceded just six from his two overs.
Kaul comes back as Sunrisers continue to shuffle their bowlers around.
The dot balls continue to pile as Yadav registers another three dot balls before taking a single.
Pollard gets a crucial boundary off the last ball, getting it fine past short thirdman inside the circle.
This is brilliant bowling from Rashid as he bowls another tight over, his third in a row.
Pollard is nearly cleaned up off the last ball as he fails to read the googly and is lucky that the ball was just wide of the stumps.
Rashid has given away just eight runs from his three overs as Sunrisers continue the squeeze the flow of runs.
Pollard looks to break the shackles as he gives Shakib the charge and lofts him over the off-side for a six.
Sunrisers get 10 runs from the Shakib over to take their score to 100 for four in 14 overs with Pollard on 18 and Yadav on 12.
Stanlake comes under attack from Pollard as the tall West Indian launches him straight down the ground for a six.
Two balls later he steers a wide past the point region for a four before the fast bowler gets revenge as he chips one straight to Dhawan at sweeper cover to perish for 28 from 23 balls.
« Back to LIVE
TOP STORIES