Curran extends England's lead
September 02, 2018 15:43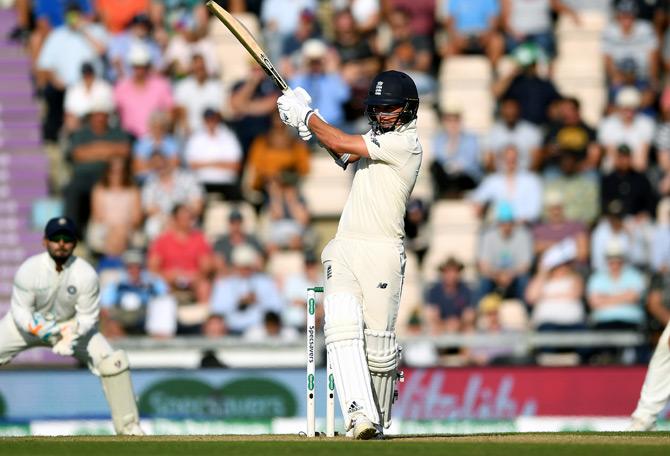 England 269-9 (95 ovs) & 246 vs India 273 | Scorecard
Ravichandran Ashwin to bowl from the other end. The field is well spread around for Curran as India are happy to give him a single and bring lastman James Anderson on strike.
Curran watchfully defends the first three balls before he takes a single off the fourth ball.
Two slips and short leg for Anderson, who defends the first ball he faces and gets a huge applause from the home crowd. Ashwin drives him forward to the last ball as it goes straight on and beats the bat.
Curran to face the hat-trick ball from Shami. He punches a full delivery to sweeper cover and is happy to take a single from the first ball he faces.
Anderson pokes his bat at a short wide delivery which moves away and is beaten. The left-hander then clips the fourth ball to fine leg for a single to get off the mark before Curran also takes one from the next.
Anderson turns the last ball to deep square leg and as expected turns down the single to give Curran the strike against Ashwin in the next over.
And it turns out to be a good move as Curran slaps a full delivery from Ashwin straight down the ground for a four.
Ashwin on the defensive as he bowls to the line outside the leg stump not giving the left-hander any room.
But Curran shows good maturity to tap the fifth ball to the covers and take a single, giving Anderson just one delivery to face, who offers no stroke to the last ball.
Curran has batted solidly to take his score to 45 and stretch England's lead to 245 runs, as they reach 269 for nine in 95 overs.

« Back to LIVE
TOP STORIES