Dhoni out for 8; India 3 down
September 25, 2018 23:06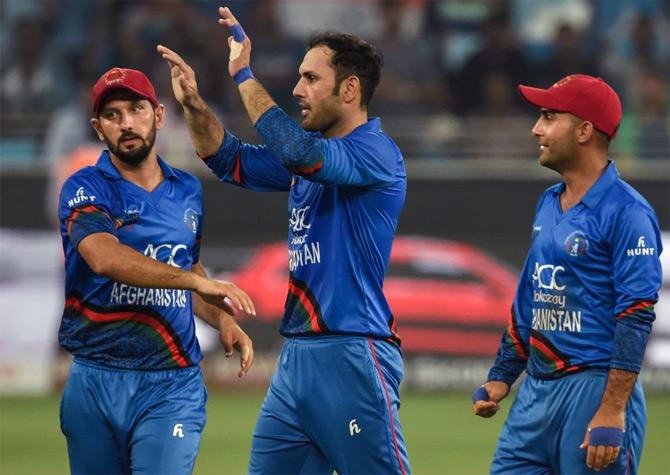 India 143-3 (26 ovs) vs Afg 252-8 | Scorecard
Nabi has a huge appeal for LBW turned down against Dhoni, who shuffles across and looks to clip it on the leg side but the umpire rejects the appeal as the batsman picks a leg bye.
Karthik clips the next ball with soft hands towards midwicket and rushes back for the second run.
Rashid sends down another tidy over, giving away just three runs for a total of 15 runs in four overs.
Off-spinner Javed Ahmadi into the attack in place of Nabi, who took one for 28 in six overs in his first spell.
Dhoni punches the first ball to long-on for one and Karthik hits the next ball to sweeper cover for another single followed by three more off the last ball three balls to make it five from the over.
Part-time spinners from both ends as leggie Rahmat Shah comes in from the other end. He starts off well as Dhoni takes a single from the first ball before Karthik plays out the rest of the over.
Ahmadi makes the important breakthrough with the key wicket of the experienced Dhoni, who is given out leg before wicket for eight.
He would have certainly used a review if there was one in hand but Rahul has already used up the one and only review available.
And interestingly, if there was a review the decision would have gone in Dhoni's favour as the ball was going down and missing the leg stump.
An unlucky dismissal for Dhoni as the wicket gives Afghanistan some hope.

« Back to LIVE
TOP STORIES