India pace attack shine in first session
November 14, 2019 11:40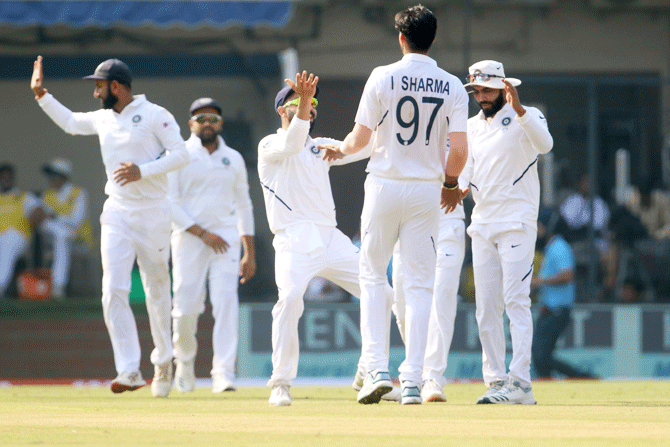 Lunch is called by the umpires and the first session on Day 1 of the opening Test clearly belonged to India.
Bangladesh go into the break at 63 for 3 after all three of India's paceman had a wicket against their name.
After the loss of the three wickets, captain Haque has stayed at the crease and ground it out with Mushfiqur as they stitched up a 32-run partnership.
They got a bit lucky with Rahane and Kohli dropping both batsmen. It will be interesting to see if they make the most of the dropped chances.
Umesh continues and Mushfiqur batting well here as he plays another shot down to third man for a four.
Next ball straigtish, is played to fine leg for a single.
Haque then lets the next one go to the keeper.
Haque then leaves the next two alone.
Dot to end the over as 5 come off it.
Ishant continues and after a dot, Ishant gets the ball to come in, Mushfiqur gets a huge inside edge and the ball runs past the keeper for a four to fine leg.
Mushfiqur then lets the next two balls go through.
A defensive shot played next for a dot.
A full ball, played down to square leg for a single as 5 come off it.
Umesh continues and Mushfiqur pushes at it, gets the outside but is dropped by Kohli at 2nd slip.
After a dot, Mushfiqur gets a single to the leg side.
After two dots, Haque chases a wide one and it runs down to third man for a four as 5 come off the over.
Ishant back in the attack as he replaces Ashwin.
Mushfiqur plays three dots and a half appeal for LBW before he is beaten by a superb ball that is bowled in that channel but comes back in.
Next ball, Mushfiqur takes a single to cover.
Good ball next as Haque does well to let it go as just a single comes off the over.
« Back to LIVE
TOP STORIES