Ishant, Umesh keep batsmen guessing
November 14, 2019 09:46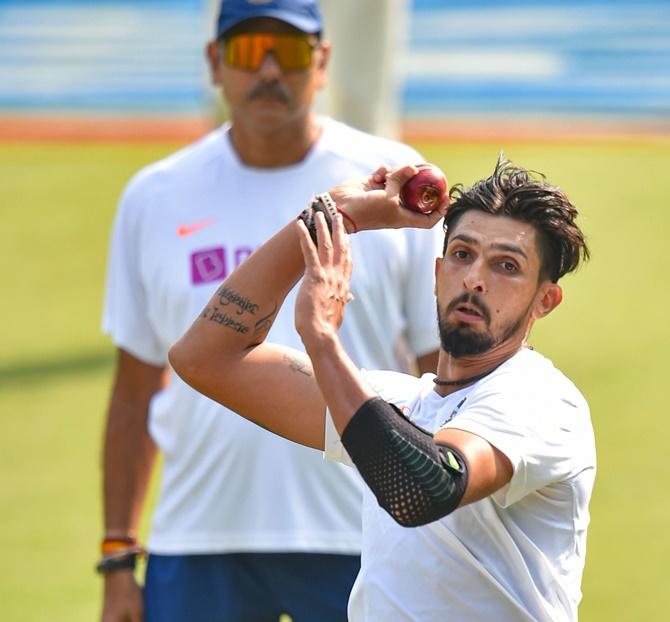 Bangladesh still yet to open their account as Ishant continues from the around the wicket.
Islam finally gets bat on ball but he is yet to open his account.
Ishant then pitches it up, makes the batsman drive and the ball goes just past the bat.
And another one! The batsmen drawn into the front foot drive again. Nothing on it.
Another play and miss and that is another maiden.
Umesh opens from the other end and he starts with a peach! The ball comes in just about and sails just over the middle stump.
Imrul then plays two defensive shots. A little fielding change.
After a dot, the ball comes up and it takes Imrul's gloves but just short off the fielder at short leg. Good ball!
Imrul then chases a wide one, nothing on it.
Another maiden.
Shadman Islam and Imrul Kayes open the batting for Bangladesh, while Ishant starts proceedings for India.
Ishant starts well but the umpire asks him to stay off the danger area straight away.
A dot later, Ishant makes a change.
Ishant now going around the wicket and the batsman lets the ball go through to the keeper.
Again, lovely balls, he is getting some movement as the batsman is kept guessing. But Islam is happy to just let them go through.
A maiden to start proceedings.
« Back to LIVE
TOP STORIES