India cruising along well
November 15, 2019 12:45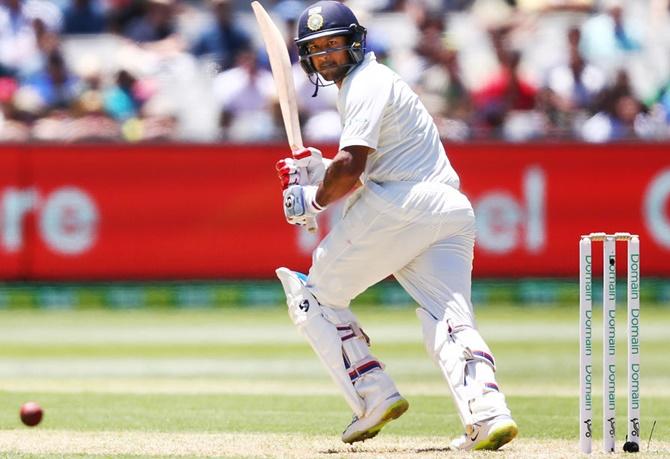 Ind 212-3 (62 ovs) vs B'desh 150 (58.3 ovs) | Scorecard
Ebadot continues and after a dot, Rahane pulls the ball down to the leg side for a single.
Agarwal then plays the next ball off his hips to deep-midwicket for a couple.
Das then does well to collects a high bouncer but the umpire calls it a wide.
After a dot, Agarwal cuts the ball to backward point for a single.
Dot to end the over as 5 come off the over.
Hasan continues and Rahane starts the over with a single off the first ball of the over. Agarwal sees off the rest of the over safely.
Ebadot continues and Agarwal gets to 99 with a superb drive down the ground for a four.
After a bouncer, Ebadot bowls another bouncer but it's called wide.
Agarwal then gets to his 100 with a flick of his hips to backward square leg for a couple.
Agarwal then defends the next three balls nicely as 7 come off it.
Ind 206-3 (60 ovs) vs B'desh 150 (58.3 ovs) | Scorecard
Ebadot continues and after two dots, Rahane gets a single to the leg side.
Agarwal is in no hurry to get to his century as he sees off the over without much trouble. Again, just one coming off it.
Hasan continues and he is bowling well but Rahane is equal to the task.
Rahane creams the last ball of the over for a four through covers.
4 come off it.
Hasan continues and he gives just one run as Agarwal moves to 96.
Paceman Ebadot back in the attack and just a single comes in the over.
Hasan continues and after five dots, he bowls a short one, Agarwal rocks back and pulls it down to square leg for a four.
« Back to LIVE
TOP STORIES