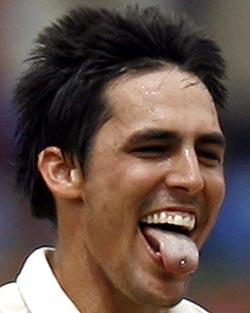 He is one of the key members in Australia's cricket team and, by far, their most experienced bowler. The last time the men from Down Under toured India (in 2007) for an ODI series, the left-armer finished as the highest wicket-taker with 14 wickets, including a magnificent five for 26 at Vadodara, and helped Australia secure a comfortable 4-2 series victory.
In 2009, he has to credit 40 Test wickets and 43 ODI scalps thus far, besides a handful of runs with the bat. This despite the fact that his form was not as consistent as was the case a couple of years. Hs efforts, nonetheless, ensured him the prestigious ICC 2009 Cricketer of the Year award.
Australia's 28-year-old fast bowler Mitchell Johnson, who was rested for the crucial fifth One-Day International of the seven-match series in Hyderabad, talks to Special Correspondent Bikash Mohapatra about his bowling, the most difficult phase in his career and subsequent resurrection.
It is not easy-going for bowlers in the sub-continent?
It's always tough bowling here, as the ball does not bounce as much. But we still have got quite a useful side and are feeling pretty good about ourselves, especially after the Champions Trophy win.
How do you adjust to wickets like the ones encountered here in India?
My bowling really depends on the wickets. When the pitches, like the ones here, are unresponsive, I try a lot of variations, slower balls, off-cutters and, maybe at times, bouncers also.
There's also hope for some early swing, else I try and use the cutters to good effect.
Obviously, you have to be tough mentally as well.
You seem to be generating considerable pace. Is that natural or have you worked towards it?
There are different ways in which fast bowlers generate pace. Like Brett (Lee) has a catapult action, and that is something that helps him garner pace.
Shaun (Tait) is unpredictably fast. He occasionally goes for a lot of runs, but he also takes a lot of wickets.
I have a bit of a slinging action and that is how I generate my pace.
In the absence of Brett Lee you are Australia's spearhead. How much does that mean to you?
After Brett had made a comeback in the ODIs against England, I read somewhere that he had said he's back at being Australia's spearhead. All I would say is being a spearhead is an honour, and with it comes a huge responsibility, a responsibility to show the other guys how to do it. 
When you are opening the bowling you need to change things. I opened the bowling during our tour of South Africa and I felt fine about it. But in England there was a lot of pressure, both from the media and my own self. I tried a bit too hard, I guess.
Talking about England, and the Ashes, there was considerable criticism about your bowling despite you taking 20 wickets. Was that the most difficult phase so far in your career? How difficult is it for a bowler when there is criticism from all quarters?
It is extremely difficult. The Lord's Test was the hardest game. I was probably embarrassed. I was thinking about everything besides what I wanted to do with the ball, which actually is the most important thing.
At one stage, I got a little bit mechanical and lost my natural trait. I went through that phase when I was thinking about swinging the ball so much that I stopped swinging altogether. Then you hear things, people saying this, that…
What helped you come out from those difficult times?
I looked back at the wickets that I had taken in the past and how I had taken them. I realized, maybe earlier I was a bit unpredictable. Then I tried too hard and it got me to in the end. But I definitely have learnt a lot from that experience and, hopefully, I can move on from that.
You are known to be an aggressive bowler?
It is always nice to intimidate batters. It is a part of our job.
I tried to fire up in England and, honestly, I enjoyed it. The English batsmen didn't like it though. I don't want to see anyone permanently hurt, but it is good to have aggression. Whatever happens on the field remains there.
We are all playing the game a bit too hard. What you need to learn is not to let your emotions get to you, because, then, it is your opponent who wins.
I once tried to rile Rahul (Dravid) in a game in Delhi, just trying to break his concentration, but he didn't react. So it was pointless.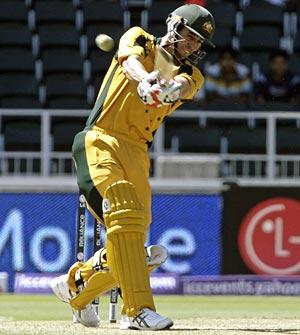 Your batting is suddenly being talked about?
I like to bat. Batting for me started at first class level in Queensland. It is an added pressure but, at the moment, I am enjoying it.
What are your own expectations when you bat? Would you like to have more opportunities to showcase your skills as a batsman?
When I am batting, I just try to keep things simple.
Bowling is, and will continue to remain the No 1 priority, but I'll do that extra bit as far as my batting is concerned.
In Tests, batting at No 8 is perfect for me, with Brad (Haddin) coming in just ahead of me.
In ODIs, it might seem a bit far-fetched, but I don't mind opening the innings. Even in T20 for that matter.
I know it is big call in the current Australian set-up, but if I do get an opportunity to bat higher, then why not?
Take us through your maiden Test hundred (against South Africa at Newlands) earlier this year?
I took my time at the start, as I was very nervous. But when I got close to the hundred, I thought I might not get another chance.
Then Dale Steyn came in to bowl, I swung my bat and got a bit lucky (the ball landed outside the rope).
It was a great feeling, completely different from what I get after taking wickets.
You won the ICC Cricketer of the Year award this year…(interrupts)
I personally didn't think I had a chance for any award. On second thoughts, maybe, I had a slight chance for the best Test player (an award which eventually went to Gautam Gambhir).
So, when the award finally came, it totally surprised me. But I am proud of it.
To be just the sixth player to win this award, and that too considering the time I have played, it is great!
During the recent Champions Trophy you took your 100th ODI wicket. You have more than 100 wickets in Tests as well. Any targets set for yourself?
I have no targets.
I am happy that I have surpassed 100 ODI wickets because when I started out I never knew I would get this far.
In fact, in my first few games I got no wickets and was belted all over the grounds.
So it is a great achievement, but I have no set targets as such.
Photograph: Reuters