After a string of defeats for Kolkata Knight Riders, team owner and Bollywood superstar Shah Rukh Khan has decided he will return to South Africa only if the team starts winning.
The actor, who returned to Mumbai to cast his vote in the general elections, said he will stay put in Mumbai as he does not want to be a part of the "sadness" that follows every defeat.
"If they are doing well, I will go back; otherwise, I don't like going back and feeling sad for the boys, because there is a lot of talent in the team and a lot of hard work," said a demoralised Shah Rukh.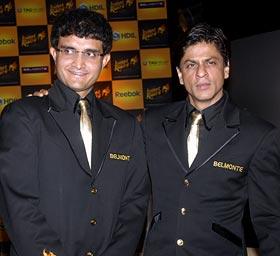 Kolkata Knight Riders have played five matches and won only one in the second season of the Indian Premier League.
"I feel very bad when we are not winning. I don't want to participate in that sadness with them," he added.
Even before the tournament got underway, KKR was beset with controversies, be it the multiple-captaincy issue, or clash with
cricket legend Sunil Gavaskar, or tell-all blog, allegedly being written by a team insider.
Shah Rukh's latest comments are quite contrary to the sentiments expressed by him in his official blog, titled 'Keep the Faith' a few days ago.
"I don't know if the path we have chosen is correct or not...It's just a path we the Knight Riders have chosen to walk on and will stick to it, till the very end," he had said in the blog.