Indian cricket captain M S Dhoni and off-spinner Harbhajan Singh gave some anxious moments to the police in Chandigarh when they left the team hotel without informing them.
Yuvraj Singh also went out declining an offer to have security personnel with him on Sunday night.
Police said they were not amused at the "irresponsible action" of the players and have prepared a report about the "security violations" made by them.
Man-of-the-match in India-Australia third one-dayer in Delhi, Yuvraj Singh was the first to leave the Taj, the team hotel, and drove out.
Yuvraj, who belongs to Chandigarh, went out in a Audi bearing a temporary registration number of Haryana from the hotel in Sector 17 and returned a couple of hours later, police said.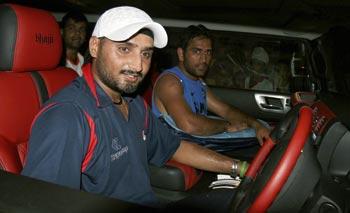 Later, Dhoni and Harbhajan also followed suit and left the hotel for a brief period without informing the security.
A senior official said it was mandatory for the players to inform the police out of their movements.
"First Yuvraj left and when we told him to take a security official with him, he outrightly refused. Then captain M S Dhoni and Harbhajan Singh also left their hotel without informing," Chandigarh's Superintendent of Police (Security) H S Doon told PTI.
Doon said Deputy Superintendent of Police Roshan Lal, who is the camp commandant deputed at the hotel where the teams are staying, had prepared a report about the "security violations made by the players". 
"I have got the report and now we will be taking up the matter with the PCA, which is hosting tomorrow's match at Mohali," Doon said.
He said that earlier in their meeting with the PCA, it was decided that any player who wants to go out will inform the concerned security official three hours in advance and will take a policeman with him when he goes out. 
He said it was regrettable that cricketers do not take security matters seriously.
Tight security arrangements have been put in place at hotel Taj where the teams are staying and in and around Mohali's PCA stadium, where the two teams will be playing their fourth tie in the seven-match series on Monday.