- Scorecard: India vs South Africa, 2nd ODI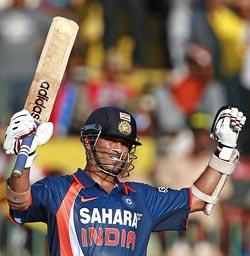 Sachin Tendulkar hit the first double century in the history of ODI cricket to lead India to a crushing 153-run victory over South Africa in the second One-Day International, in Gwalior, on Wednesday.
The 37-year-old batsman underlined his reputation as the greatest player in the history of cricket by breaching the 200-run mark, the first instance since the 50-over format was introduced in 1971.
Tendulkar was at his vintage best as he blazed his way to 200 from a mere 147 deliveries, inclusive of 25 boundaries and three sixes. In carrying his bat through the innings he propelled India to a mammoth 401 for three in 50 overs.
The previous record for the highest score in ODIs belonged to former Pakistan opener Saeed Anwar and Zimbabwe's Charles Coventry, who both scored 194.
In reply, AB de Villiers smashed an unbeaten 114 from 101 deliveries before South Africa were dismissed for 248 in 42.5 overs. The victory also saw India take an unassailable 2-0 lead in the three-match series.
De Villiers waged a lone battle, completing his century off just 85 deliveries, inclusive of 11 boundaries and two sixes, as South Africa scored 227 for nine after 39 overs, needing another 175 runs from the last 11 overs.
S Sreesanth was the most successful bowler, claiming three for 49 in seven overs, while Ravindra Jadeja (2 for 41), Yusuf Pathan (2 for 37) and Ashish Nehra were also among the wickets for the hosts.
Earlier, captain Mahendra Singh Dhoni also thrived in good batting conditions, smashing 68 from 35 balls, inclusive of five boundaries and four sixes, in an unbroken stand of 101 from 54 deliveries for the fourth wicket with Tendulkar.
India's batsmen were unstoppable towards the end as 115 runs came off the last 10 overs as it rained boundaries and sixes at the Captain Roop Singh stadium.
Dinesh Karthik made 79 from 85 deliveries, inclusive of four boundaries and three sixes, before he was caught by Herschelle Gibbs at midwicket off Wayne Parnell. He was involved in a record stand of 194 runs in 177 deliveries for the second wicket with Tendulkar, India's best against South Africa.
Yusuf Pathan hit four boundaries and two sixes in his 23-ball 36, before he was caught in the covers by AB de Villiers off Roelof van der Merwe. Pathan and Tendulkar shred the bowling attack to pieces as they added 81 runs in 43 deliveries for the fourth wicket.
The third and final one-dayer will be played in Ahmedabad on Saturday.
India:
Sehwag, who recovered from a sore back, got an early lifeline even before he had opened his account when Dale Steyn dropped a difficult caught and bowled chance in the first over of the match.
Sachin Tendulkar got going in the second over with two back-to-back boundaries off Wayne Parnell on both sides of the wicket.
But, at the other end, Sehwag perished to a reckless shot. The right-hander lashed out at a wide delivery from Parnell but holed out to Steyn on the third man boundary after scoring nine from 11 deliveries. (25-1, 3.5)
Meanwhile, the visitors also lost a couple of their men due to injuries while fielding. First, JP Duminy was injured the webbing on his left hand and after a few overs Charl Langeveldt sustained a cut above his left eye as he slipped while attempting to field a drive.
Dinesh Karthik also didn't take time to get started and slammed Parnell for a couple of boundaries through the leg side to take India to 39 for one after six overs.
Tendulkar looked in vintage touch as he hit boundaries in consecutive overs to race to 36 from 27 deliveries and take India past the 50-run mark in the eighth over.
Karthik also took cue from Tendulkar and clipped a full delivery from Steyn over square leg for the first six of the match. There was no stopping Tendulkar on what looked like a flat wicket as he slammed Parnell for another two boundaries to take India to 74 for one after ten overs.
Tendulkar completed his half-century, his 94th in ODIs, off just 37 deliveries with a flicked boundary through fine leg off Roelof van der Merwe in the 12th over of the innings.
Karthik creamed Kallis for a boundary through covers before bringing up his half-century off the next delivery from 59 deliveries and India were 157 for one at the halfway stage.
India, it seems, had already made up their mind to keep the runs coming at a fair rate in the middle overs. Karthik was beaten by a couple of slow deliveries from Kallis and he made it up by slog sweeping him over midwicket for his second six, in the 27th over.
Tendulkar wasted no time in bringing up his 46th century in ODIs as he took just 90 deliveries to reach the landmark, with a single against JP Duminy in the 28th over. In the next over, he continued India's batting domination with two boundaries off Kallis as the two veterans exchanged a few words in the process.
At the other end too, the South African bowlers suffered as Karthik slammed Duminy for a six and a boundary to take India to 198 for one after 30 overs.
Despite the century, Tendulkar was not satisfied. He punished Duminy with a straight six followed by a powerful boundary through that same area as India's domination continued.
Against the run of play, South Africa struck with the wicket of Karthik, who was caught at midwicket off Parnell for a good innings of 79. The right-hander, who hit four boundaries and three sixes in his 85-ball knock, gave good support to Tendulkar as the duo put on a record stand of 194 from 177 deliveries for the second wicket to lay a solid foundation for a huge total. (219-2, 33.2)
India reached 219 for two after 34 overs and with Yusuf Pathan promoted up the order decided to take the Batting Powerplay.
It was Tendulkar, though, who was leading the charge in the Powerplay as he hit Steyn for two boundaries in the 35th over followed by another one off Parnell in the next over.
Pathan joined in the fun with back to back boundaries off Steyn and Tendulkar repeated the dose for four boundaries in Steyn's over as India reached 253 for two after 37 overs. Pathan then took charge with two huge sixes off Parnell, while Tendulkar brought up his 150, from a mere 118 deliveries, in the 38th over.
The Powerplay overs went according to plan for India as they hammered 63 runs from the five overs to reach 282 for two after 39 overs.
Pathan hit Langeveldt across the line for a boundary through midwicket to take the total of 291 for two in the 40th over to register the highest score at this ground, beating the 289 for six, Pakistan made against Sri Lanka. In the same over, Tendulkar played a cross batted slog for a huge six on the leg side to take India past 300 in the 41st over.
Van der Merwe provided South Africa with an important breakthrough when he claimed the wicket of Pathan for 36. The right-hander hit four boundaries and two sixes in his 23-ball knock before hitting it straight to AB de Villiers in the covers, after having added 81 runs for the third wicket with Tendulkar. (303-3, 41.1)
Tendulkar didn't let that stall down the momentum as he slammed van der Merwe for a boundary and six off consecutive deliveries to reach 179 from 131 deliveries and take India to 313 for three after 42 overs.
The master batsman despatched a full delivery from Kallis through the leg side to move to 186 and equal his highest score in ODIs and went past that score with a single in the next over.
The stage was perfectly set for captain Mahendra Singh Dhoni to set the stadium on fire with his big hits and he didn't disappoint. He announced his arrival with back to back boundaries off Parnell in the 44th over but everyone's focus was still on Tendulkar at the other end.
With every over Tendulkar was getting more and more exhausted and with a double century in sight, it was all but natural that he looked only for the singles and twos. The crowd went into raptures when Tendulkar took a double on the leg side off Parnell in the 46th over to reach 196 from 141 deliveries and register the highest score in One-Dayers.
The previous record was jointly held by former Pakistan opener Saeed Anwar, who made 194 against India, and Zimbabwe's Charles Coventry, who hit 194 not out against Bangladesh.
At the other end, Dhoni was proving to be the perfect foil as he ended that over with a boundary and a six to take India to 356 for three after 46 overs.
For once, while Dhoni was smashing his big sixes, the entire India wanted him to take a single with Tendulkar unbeaten on 199 at the other end. The Indian captain seemed unfazed as he slammed Steyn for two huge sixes and a boundary to complete his half-century from just 29 deliveries to take India close to the 400-run mark.
He started the next over from Langeveldt with another huge six and yet again the entire stadium begged him for a single. That moment finally came when Amla brilliantly fielded a cracking shot on the midwicket boundary and the two batsmen were content to take a single.
Tendulkar then completed the first ever double century in One-Day Internationals with a single on the off-side. It took the master batsman just 147 deliveries and he slammed 25 boundaries and three sixes to send the entire country into celebration.
Dhoni ended the innings in perfect style when he cracked a full delivery down the ground to help India post a mammoth 401 for three in their 50 overs.
It was an absolute delight to watch Tendulkar at his sizzling best, as he cruised his way to a magical innings of 200 not out from 147 deliveries, having batted the entire 50 innings.
Dhoni literally went unnoticed as he smashed his way to a cracking unbeaten knock of 68 from 35 deliveries, which included seven boundaries and four sixes. The India captain was involved in a blazing unbroken partnership of 101 from just 54 deliveries for the fourth wicket with Tendulkar.
In the last ten overs, the Indian batsmen hammered a massive 115 runs, losing just two wickets in the process.
There was nothing in the bowling department as far as South Africa were concerned. Parnell was the top wicket-taker, claiming two for 95 in ten overs, while van der Merwe took one for 62 in ten overs.
South Africa:
Herschelle Gibbs got South Africa's innings off with a boundary through the covers off Praveen Kumar in the first over. In the next, from Ashish Nehra, he hit two straight boundaries to take South Africa to 17 after two overs.
However, he did not last long enough as he was bowled off an inside edge for 10 trying to play the paddle sweep against Kumar in the third over of the innings. (17-1, 2.1)
The in-form Amla gave South Africa much-needed momentum at the start with four boundaries off Nehra in the third over. Roelof van der Merwe was sent in as the pinch-hitter and he underlined his intentions by lofting Kumar for a huge six over long-on to take the total to 43 for one after five overs.
But Van der Merwe did not last long and fell in Sreesanth's first over. He attempted to hit him across the line on the leg side but got a leading edge and was caught by Suresh Raina in the covers for 12. (47-2, 5.4)
The Kerala speedster then dealt South Africa another big blow in his next over with the wicket of Amla. The right-hander went for a pull shot but could not connect it and lobbed a simple catch to the mid-on fielder. He was out after a brisk knock of 34 from 22 deliveries, inclusive of seven boundaries. (61-3, 7.4)
AB de Villiers also wasted no time in attacking the bowlers and hit Kumar for two boundaries in the ninth over. Captain Jacques Kallis kept South Africa on course with the asking run rate with a couple of fours against Sreesanth to take South Africa to 81 for three after ten overs.
Just when the innings was beginning to take steam, Ashish Nehra crippled it further with the wicket of Kallis. The South Africa captain tried to force one through the off-side but inside edged it back on to his stumps for 11. (83-4, 10.2)
Ravindra Jadeja started off with the wicket of Alviro Petersen, who was bowled for nine as he tried to pull a short delivery. (102-5, 14)
Yusuf Pathan also claimed a wicket in his first over, trapping Duminy leg before wicket for a golden duck as South Africa kept losing wickets at regular intervals. (103-6, 14.2)
Mark Boucher found the going difficult against the two part-time spinners and it was not long before he lost his wicket. He tried to sweep but missed the ball and was struck right in front of the stumps after a patient knock of 14 from 30 deliveries. (134-7, 22.2)
Finally, De Villiers managed to break the sequence of a few overs with boundaries by charging down the wicket and lofting Pathan straight down the ground for a six, in the 27th over. The right-hander brought up his half-century from 54 deliveries with two runs through midwicket as South Africa reached 159 for seven after 30 overs.
De Villiers looked to push the accelerator as he hit four boundaries in the space of two overs to reach 71 from 65 deliveries, inclusive of eight fours and a six.
With the score reaching 197 for seven after 35 overs, South Africa decided to take the Powerplay. De Villiers immediately got into the attack and slammed Jadeja for a boundary and six through the midwicket region in the first over of the fielding restriction.
Nehra ended Parnell's resistance when he bowled him courtesy an inside edge for 18 from 43 deliveries after a 77-run partnership for the eighth wicket with De Villiers. (211-8, 36.5)
In the next over, Sreesanth got the better of Dale Steyn for a duck when he sent his stumps with a full delivery. (216-9, 37.5)
De Villiers continued making merry and sent Sreesanth crashing through the covers for a boundary twice his sixth over to take the total to 241 for nine after 40 overs.
Charl Langeveldt scored 12 before he was taken by Nehra off Jadeja.
De Villiers was left stranded on a fine innings of 114 from 101 deliveries, inclusive of 13 boundaries and two sixes, as South Africa were bowled out for 248 from 42.5 overs.
South Africa lost the match by a huge margin of 153 runs which also saw India seal the three-match series 2-0.
In the end, the only difference between the two teams was Tendulkar's double hundred. The visitors looked to play the attacking innings right from the start but their batsmen failed to fire, and except for De Villiers, all of them wilted under the pressure.
It would now make sense for India to try out a few youngsters in the third and final ODI on Saturday.