Virat Kohli's fluent century and Suresh Raina's quickfire 71 led India to a convincing five-wicket victory over Australia in the second One-Day International, at the Dr Y S Rajasekhara Reddy stadium, in Visakhapatnam, on Wednesday.
India cruised to 292 for five in 48.5 overs in reply to Australia's 289 for three, winning with seven deliveries to spare. The victory enabled the hosts maintain their unbeaten record at the venue. They lead the three-match series 1-0, after the first match in Kochi was washed out.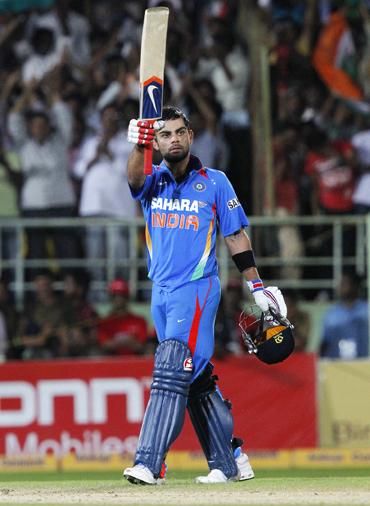 Kohli, who batted with a runner after suffering cramps, excelled in tough conditions, scoring 118 from 121 balls, before he was caught at long-on off debutant John Hastings.
Raina provided the late surge, as he smashed his way to 71 from 47 balls, including nine fours and a six.
Yuvraj Singh looked good for a big knock before he was deceived by a slower delivery from Clint McKay and bowled after a brisk 58, inclusive of five boundaries in 87 balls. The left-hander rallied India after the loss of a couple of early wickets with a 137-run partnership off 152 balls for the third wicket with Kohli.
It was a similar scenario in the Australian innings. Michael Clarke led from the front with a steady century, and Cameron White exploded in the closing overs, as the tourists posted a competitive 289 for three in their 50 overs
Clarke struggled at the start of his innings but steadily grew in confidence to remain unbeaten after a fine innings of 111 from 138 balls, inclusive of seven fours and a six. But it was White who single-handedly changed the course of Australia's innings, smashing 89 from a mere 49 balls, inclusive of six sixes and as many fours.
Michael Hussey also played a big role in bringing Australia back into the game, scoring 69 from 77 balls, having hit seven fours, before he was trapped leg before wicket by R Ashwin.
Australia:
India's pacers started off well, maintaining a good line and length while getting a fair amount of assistance from the pitch.
Time Paine was lucky to survive when he inside-edged Praveen Kumar, but the ball went past the stumps for a boundary through the third man region.
However, his partner, Shaun Marsh, was not so lucky. He played away from his body to a wide delivery from Nehra but the inside edge went back on to his stumps. He was dismissed for 11-ball duck.
Australia struggled to raise the tempo after that, as the runs dried up with both pacers maintaining a tight line and length.
Paine tried to break the shackles but lost his wicket in the process. He tried to hit Nehra down the ground but chipped the ball straight to the mid-on fielder and was dismissed for nine from 24 balls.
Nehra bowled a superb spell of two for three in four overs, including a maiden.
Michael Hussey got off to a quick start, hitting three boundaries in the space of eight overs to take the total to 30 for two in ten overs.
Off-spinner R Ashwin was introduced in the 14th over, while Yuvraj Singh was introduced in the 18th, as India looked to suffocate the visitors with slow bowlers in the middle overs.
Clarke broke the shackles somewhat when he chipped down the wicket and lofted Yuvraj over the cover region for a four in the 20th over, the first after six overs.
The two batsmen looked to repair the early damage with singles and twos as they brought up the 50-run partnership in 66 balls for the third wicket.
Hussey slammed Yuvraj through the covers for a boundary to take the total past the 100-run mark, in the 26th over.
Clarke brought up his fifty, his first of the tour, from 77 balls in some style when he cut a short delivery from Raina through the off-side for a boundary. In the next over, Hussey also brought up that milestone from 62 balls with a single on the off-side to take the total to 125 for two in 30 overs.
The Clarke-Hussey partnership was slowly but surely building Australia's innings but they found it hard to break free.
Hussey tried something unconventional as he reverse swept Yuvraj for a boundary, his seventh of the innings, in the 36th over.
However, the left-hander was dismissed in the next over. He tried to pull Ashwin through the leg side but missed and was trapped leg before wicket after a brisk knock of 69 from 78 balls.
He played a big part in Australia's revival, adding 144 runs in 172 balls for the third wicket with Clarke, who also looked confident after a nervy start.
Cameron White looked to get going right from the start and crashed Nehra through the off-side for a four to take Australia to 175 for four in 40 overs.
The Australians took their Powerplay at the start of the 43rd over but boundaries were still coming at a premium.
Clarke, in particular, looked tired and was content to deal only in singles and twos to close in on his century.
White drove a full delivery from Kumar through covers for a boundary to bring up Australia's 200 in the 45th over.
Australia then decided to cut loose with just five overs remaining.
Vinay suffered in the next over when his Royal Challengers Bangalore team-mate Cameron White lofted him down the ground for the first six of the match.
Clarke then followed it up with back-to-back boundaries and then took a single to bring up his century from 133 balls, with the help of seven fours, in the 46th over.
White then got back-to-back boundaries off Nehra, behind the wicket on both the sides, as Australia hit 30 runs from 12 deliveries to reach 235 for three in 47 overs.
Praveen also suffered as White lifted him back over his head for a huge six to bring up his fifty from just 38 balls, in the 48th over.
In the same over, he repeated the shot again for the same result as Australia looked to make most of the last few overs.
Clarke then joined in the party and whipped Nehra across the line over the midwicket fence for his first six of the innings. White also hammered him through that same area for a four when the left-hander dished out a full toss.
It turned out to be a perfect finish for the visitors as White slammed three sixes and a four in the final over from Vinay Kumar to take Australia to a huge 289 for three in their 50 overs.
Clarke was unbeaten on a fine innings of 111 from 138 balls, having hit seven fours and a six. White did most of the damage in the final over as he blazed 89 from a mere 49 balls, with the help of six sixes and six fours.
The two batsmen were involved in a quickfire unbroken partnership of 129 runs in 81 balls for the fourth wicket.
Australia hammered 84 runs in the last five overs with White contributing 64 from 21 balls to put his team in the driver's seat.
India:
It turned out to be an unfortunate debut for Shikhar Dhawan; he was dismissed off the second ball he faced. Mckay got one to come in a bit; the ball beat the left-hander's defence and rattled his stumps. He was out for a duck in the first over of the innings.
Murali Vijay started off with a cracking boundary through covers off McKay in the third over. Virat Kohli then pulled Mitchell Starc through midwicket for his first four.
Vijay then took on McKay as he lofted him twice over the off-side for a couple of boundaries in the seventh over. But the bowler had his revenge in the next when he got Vijay to edge a wide delivery behind. The opener was out for 15 from 18 balls.
Yuvraj Singh showed his intentions early when he flicked debutant John Hastings over midwicket wicket for four to take India to 40 for two in ten overs.
Kohi also showed Hastings no mercy, hitting him for two fours in a row on both sides of the wicket, in the 14th over.
Yuvraj and Kohli wasted no time to get after the spinners, and hit Nathan Hauritz and Steven Smith for a boundary each.
Kohli completed a well-deserved fifty off 69 balls in the 23rd over, helping his team recover after a disastrous start.
But Australia strung together a few tight overs as they dried up the boundaries. Yuvraj broke that sequence of tight overs, courtesy a streaky edge when his edge off James Hopes flew past a diving Tim Paine behind the wickets.
Yuvraj also brought up his half-century, from 64 balls, in the 28th over as India started to take control of the run chase.
Hopes got further rough treatment in his next over, with two more boundaries coming from Kohli's bat through the off-side region. It also brought up the 100-run partnership.
After 30 overs, India were 161 for two, still needing another 129 runs in 120 deliveries for victory.
Kohli was suffering from cramps and granted a runner in the 33rd over, though not before Clarke voiced his disapproval to the umpires.
McKay then gave Australia some hope when he deceived Yuvraj with a slower delivery. The left-hander scored 58 from 87 balls, adding 137 runs in 152 balls for the third wicket with Kohli.
Suresh Raina got into the act straightaway and lofted James Hopes over the cover region for his first boundary. The young left-hander then looked to increase the tempo and thumped Hopes for three back-to-back boundaries through the leg side in his next over to take India past the 200-run mark in the 38th.
Raina looked in a hurry as he hit Starc for back-to-back boundaries to take India's total to 224 for three in 40 overs, still needing 66 from the last ten overs.
Meanwhile, Kohli completed a well-deserved century off 111 deliveries in the 42nd over. It was his third ton in ODIs.
India decided to take the Batting Powerplay at the start of the 43rd over and immediately Kohli cut loose.
He hit McKay for back-to-back fours before lofting him down the ground for a six to register his highest score in ODIs.
Kohli (116) was fortunate when Hauritz dropped a tough catch at point in the same over. But he was dismissed in the next over. Hastings claimed his first wicket in international cricket, when Kohli chipped one straight to the long-on fielder. The Delhi batsman excelled in tough conditions with a fluent innings of 118 from 121 balls, laced with 11 fours and a six.
Mahendra Singh fell for a golden duck, bowled by Hastings off the very first delivery he faced.
After 44 overs, India were reduced to 257 for five, needing 33 from the last six overs.
Raina made sure there was no further drama at the end after those two quick wickets. He lifted Hastings and Hauritz for a six each in successive overs to end up with a splendid knock of 71 from 47 balls, laced with nine fours and a six.
Debutant Saurabh Tiwary hit the winning runs with successive boundaries, helping India comfortably finish on 292 for five in 48.5 overs.
India thus take a 1-0 lead in three-match series, with the final ODI to be played in Goa on Sunday, October 24.