Image:
Illustration: Uttam Ghosh
Rajneesh Gupta
Noted cricket statistician Rajneesh Gupta replies to readers' queries.
Name: Vivek
I know what a hat-trick in cricket is. However, I want someone to answer this for me (with references, if possible). Here is a situation: A bowler takes two wickets off the last deliveries of a match. Now he takes one wicket off the very first delivery of the next match. Is that considered a hat-trick?
In this same situation, for the next match, he does not bowl the first delivery but takes a wicket off his first delivery which is the first of the 8th over, for example. Has he still taken a hat-trick?
Rajneesh Gupta: A bowler can achieve a hat-trick spanning over two innings or three different overs, but it has to be in the same match. A hat-trick cannot span over two different matches. So, in the example cited by you, it will not be considered a hat-trick.
------------
Name: Intekhab
Assuming a triple century = 3 centuries, and a double century = 2 centuries, please list the sum of total centuries by Sir Don Bradman, Sachin Tendulkar, Brian Lara and Ricky Ponting.
Rajneesh Gupta: Fascinating question, Intekhab!
Brian Lara also scored a quadruple century, so he gets four centuries for that effort by your formula; Lara also shares the top slot with Tendulkar, with 46 centuries. Bradman comes next with 43 and is followed by Ponting, who had 41 centuries before the start of Ashes 2009.

Ask the expert

Image:
Illustration: Uttam Ghosh
Name: Ketan K
Can the wicketkeeper collect the ball before it reaches the stumps -- in front of stumps -- and do stumping?
Rajneesh Gupta: Law 39 deals with your query, Ketan. It says: "The wicketkeeper can come in front of the wicket to stump the striker only after the ball has first come in contact with the striker's bat, or person. If the wicketkeeper does so before the ball has made this contact or before the ball passes his stumps, the striker's end umpire must call and signal No ball."
-----------
Name: Qaazim
Sanath Jayasurya completed 84 ODI matches against India. Is this the maximum of any player against any opponent? Please tell me who are the toppers in the particular list.
Rajneesh Gupta: Jayasuriya's 84 ODI appearances against India is indeed the maximum by any player against any opponent. The list is totally dominated by sub-continent players as you will see from the following table.
Most ODI matches against a particular opponent

Ask the expert

Image:
Illustration: Uttam Ghosh
Name: Raghu
Who are the top players involved in most number of 100 partnerships in one-dayers and Tests? Who are the players with most 50-plus partnerships in both forms of the game? Let me know the individual players involved, not the pairs.
Rajneesh Gupta: A total of five players have been involved in 100 century-partnerships in Tests and ODIs combined, with India's Sachin Tendulkar leading the table quite comfortably. Only three of these five have managed to feature in 50 partnerships in both forms of the games. The details:

-----------
Name: H L Cadambi
From 1990 onwards, which major Test-playing nation has used the most number of players on average per Test played (total number of players used divided by number of Tests played)? And who has used the least?
Rajneesh Gupta: A total of 787 Tests have been played since January 1, 1990 till June 30, 2009, in which 863 players have represented their respective countries
England played 128 players in this period -- maximum by any team, while Bangladesh employed only 54 -- the least for any side. However, the number of Tests played by each country also needs to be taken into consideration. Bangladesh used 54 players in only 59 Tests in this period, which means that they tried almost one new player in each Test on an average -- which is the highest average for any side. Zimbabwe comes second. At the other end of the scale, Australia used least players on an average. The following table has the details: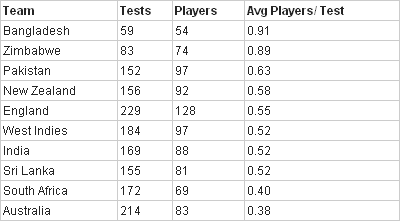 Ask the expert

Image:
Illustration: Uttam Ghosh
Name: Samrat
Which country has the maximum number of 300-plus scores in ODIs? Where does India stand in that table?
Rajneesh Gupta: When India made 339 for six and West Indies replied with a gritty 319 in the Kingston ODI on June 26, they provided the 320th and 321st instance of a side scoring 300 or more in One-day internationals. Australia have the most such scores (56), followed by India (52), Pakistan (49), South Africa (34) , Sri Lanka (29), New Zealand (25), West Indies (24), England (22) and Zimbabwe (14).
------------
Name: Shankar Krishnan
Who are the batsmen and bowlers who bowled the first ball and faced the first ball respectively in Test, ODI & 20-20 cricket?
Rajneesh Gupta: Here is the answer to your query, Shankar.