Cricketing ignoramuses, reared on a diet of watching batsmen plundering runs against poor teams and listless bowlers on batting paradises, tend to believe that opening the innings is damn easy.
But it's not. Rather, it's a very tricky proposition. When the wicket is green and lively, the ball new and fast bowlers fresh and lethal, few can survive at the top and bat with some degree of confidence.
Often a side's fortune depends to a certain extent on the kind of start it gets from its openers. A good beginning usually makes the task of the middle-order batsmen a bit easier, whatever the nature or the status of the game.
One must never underestimate the role of an opener, especially against powerful opponents at the highest level of the game, where there aren't too many restrictions on pace bowlers.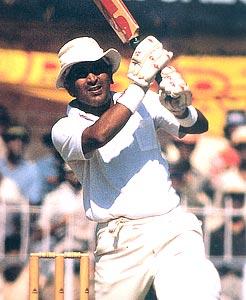 Sunil Manohar Gavaskar, who turns 60 today, continues to remain not just the best, but also the greatest ever Test opener -- all things considered. Lest anyone should think that I'm intoxicated by his dazzling statistics and records to make such a statement, let me assure you that I'm not.
With due respect to the likes of Jack Hobbs, Herbert Sutcliffe, Geoffrey Boycott, Gordon Greenidge, Desmond Haynes, Mark Taylor, Matthew Hayden, Justin Langer, Virender Sehwag and many others of their ilk, Gavaskar deserves this honour for his numerous tours de force against the world's fastest bowlers in adverse batting conditions with his team usually in crisis.
Without wearing a helmet or any other form of headgear until he was nearly 34, Gavaskar successfully dealt with a slew of awesome fast and swing bowlers like John Snow, Bob Willis, Ian Botham, Jeff Thomson, Dennis Lillee, Rodney Hogg, Richard Hadlee, Garfield Sobers, Andy Roberts, Michael Holding, Wayne Daniel, Malcolm Marshall, Sylvester Clarke, Imran Khan and Sarfraz Nawaz.
It was only in the last few years of his career that he resorted to using a small guard for his temple, which he would tuck into his wide-brimmed cloth hat, after he decided to reintroduce the hook into his repertoire of shots.
It was a measure of his technique and footwork, as well as ability to see the ball early and decide in a split second how to play it, that Gavaskar rarely, if at all, got injured during his illustrious international career.
Fond memories of Gavaskar's vintage batsmanship remain as fresh in mind as a grippingly interesting George Orwell novel. A prodigiously talented batsman, Gavaskar seldom or never failed to make the ultimate effort to do full justice to his genius.
In fact, he paraded his talent and spread the lustre of his batting in every nook and cranny of the globe, not just in the Caribbean, where he was mostly seen in all his glory.
Gavaskar appeared on the Indian cricket firmament when we had only a solitary world-class batsman of quality fast bowling -- Gundappa Viswanath. But Viswanath himself was new to international cricket, as he had just made his Test debut with an aesthetically delightful century against the mighty Australians.
How the two little big men, who later became brothers-in-law, went on to reduce the most destructive of speedsters to an ordinary lot for well over a decade is a part of history now and needs no repetition.
Besides his nearly flawless and seemingly simple technique, it was his character and courage, coupled with his individual brilliance, that always stood Gavaskar in good stead when opening the Indian innings against hostile quick bowlers on the fliers in the West Indies, the greentops Down Under, the deceptively greener and slower tracks in England and the unpredictable pitches in Pakistan.
Batting was more than just technical expertise for Gavaskar. It was an endurance contest for him. It was also a science, an art, with rules, rituals and methods that, once learned, led to mastery.
Watching Gavaskar in action, when an intense battle was going on between the bat and ball, was akin to looking at a scientist at work, totally unconcerned about the things around him.
In addition to his technical excellence, Gavaskar's famed confidence, concentration, steely resolve and burning desire to prove his class and calibre against the world's best cricketers were enough to scare his opponents.
Until the early 1980s, Gavaskar had to shoulder the unenviable dual responsibility of opening the innings -- with an average, hesitant and irregular partner, though Chetan Chauhan gave him fairly good company in the late 1970s -- as well as lending solidity to the Indian batting.
Being the only capable batsmen to frustrate the opposite sides, Gavaskar and Viswanath were the most persistently targetted Indian batsmen by fast bowlers.
With spin being our only strength in those years, and consequently the opponents didn't have to fear retaliation, Gavaskar, Viswanath and the rest of Indian batsmen were invariably at the receiving end of some of the most intimidatory bowling any country had to endure since the Bodyline series.
It shouldn't be difficult to imagine the enormous pressure under which Gavaskar and Viswanath had to bat throughout the 1970s. Unlike today, the Indian team didn't boast of having so many outstanding batsmen in its ranks.
Gavaskar's failure, even though it was a rare occurrence, would spell disaster for India if Viswanath, too, did not contribute much in the middle-order.
In the later stage of his eventful career, Gavaskar was a trifle relieved in the sense that even if he failed on odd occasions, there were players like Dilip Vengsarkar, Mohinder Amarnath and Mohammed Azharuddin to take care of India's batting.
But it wasn't always so. One example should suffice. Gavaskar decided to bat at No 4 in the sixth Test against the West Indies at Chennai in 1983. But fate had some other idea, as the maestro had to play the part of an opener all over again. Well, almost.
The visitors batted first and scored only 313, thanks to some very fine bowling by the left-arm spinner Maninder Singh, who consumed Haynes and Vivian Richards before they could prove dangerous.
It was a rare sight when the Indian innings opened with Aunshuman Gaekwad and Navjot Singh Sidhu. Marshall swung into action in no time and India began to feel Gavaskar's absence at the top.
Continuing his good form in the series, Marshall dealt two crucial blows before the spectators could settle down in the stands, dismissing Gaekwad and Vengsarkar in identical fashion, caught by the tall and ever-agile Roger Harper in the slips.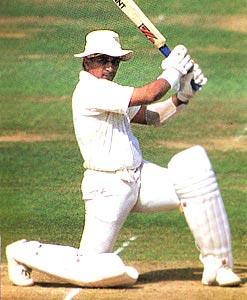 India was tottering at 0 for 2, and the innings was only 13 minutes and 14 balls old, when Gavaskar stepped in to stem the rot. It was a familiar situation for him and, what's more, he was virtually in his customary role as an opener.
Batting as well as he had done in that particular rubber, showing a splendidly surprising and remarkably consistent aggressive approach, going after the West Indian quicks, bringing out all the shots from his rich arsenal, particularly the risky hook, which he had stopped playing for the team's sake, Gavaskar rescued India in his typical style even as wickets kept falling at regular intervals at the end.
From 92 for 5 at one stage, India was in such a strong position that Kapil Dev declared the innings at 451 for 8, with Gavaskar still unconquered on 236. He added 170 runs for the sixth wicket with Ravi Shastri (72) and 143 for the ninth with Syed Kirmani (63 not out).
But for Gavaskar's heroic innings, India would surely have lost the Test, considering the way Holding, Marshall and company had terrorised the batsmen in the series.
The innings was personally memorable for Gavaskar. He surpassed Don Bradman's world-record of 29 Test centuries. It was his fourth double hundred in Tests. It was also the highest individual score by an Indian against any country in Test cricket.
Of course, the innings wasn't as spectacular as the 121 (the century was scored off 94 balls with the first 50 having been smashed from just 37 deliveries) he had made at Delhi earlier in the series. But it was fluent and more typical of Gavaskar for its construction.  
To be sure, this wasn't the first time that Gavaskar had saved India from the jaws of a humiliating defeat. He had saved many other Tests before as well; and helped win quite a few.
Unfortunately, many of his long innings and big hundreds weren't capitalised on by his team-mates, particularly the batsmen, and India had to pay the price -- sometimes very dearly. Undaunted, he kept soldiering on.
Having entered the heavyweight division of cricket with a bang (774 runs at 154.80, including three centuries and one double hundred, in his first four Tests in the West Indies in 1971), there were always great expectations of Gavaskar.
He lived up to them more often than not in spite of being a target of the heaviest flak for being an opener as well as his team's leading scorer.
Unlike Viswanath, who was naturally aggressive and positive at the wicket and relished playing his shots in any situation, Gavaskar was a patient batsman with a Promethean determination.
However, on rare occasions (like against the West Indies at home in 1983), when the mood seized him, he batted attackingly. If he couldn't take apart an attack, he unsettled it with his rocklike defence and uncanny placement.
For all his exploits and achievements in Test cricket, Gavaskar gave the impression of being only a shadow of himself in many of the 108 One-Day Internationals he played for the country.
He is fated to carry the stigma of his infamous innings of 36 not out off 174 balls in 60 overs, against the host England at Lord's, in the inaugural World Cup in 1975. Of course, the same Gavaskar hit an unbeaten 103 in 88 balls with 10 fours and 3 sixes against New Zealand at Nagpur during the 1987 World Cup.
Though a little defensive, Gavaskar was one of India's successful captains. There were never obvious signs that the responsibilities of captaincy affected his batting as runs just kept flowing from his well-oiled willow.
But they tended to affect his personality and approach and on-field behaviour! His moods became subject to more frequent and extreme fluctuations under his new mantle.
When given out lbw to a Lillee delivery, against Australia at Melbourne in 1981, which he believed he had very obviously played on to his leg, a furious Gavaskar marched his opening partner Chauhan off the field with him, intending to concede the crucial third and final Test.
Firm intervention by the Indian team manager Wing Commander S K Durrani prevented the ugly, unprecedented situation. Not only did India win the Test but also squared the series.
Gavaskar the captain brought some laurels for the country at a time when many in India weren't prepared to believe, particularly when it appeared that the renowned spin quartet had been over the hill, that there could be light at the end of the tunnel.
If he appeared to be lacking in adventurism, it could be due to the fact that the Indian public, misguided at times, did not embrace the loser. He had been witness to the plight of both Ajit Wadekar and Bishen Singh Bedi and he probably did not want to meet the same fate. It isn't surprising, then, that of the 47 Tests in which he led India, as many as 30 were drawn.
He is still criticised for not trying to win any Test against England after winning the first in Mumbai in the six-match series in 1981-82. He invited the wrath of the media by scoring 172 in 11 hours and 48 minutes -- the longest, in terms of time, by an Indian -- at Bangalore. But his popularity was such that a sizeable crowd sat enthralled almost throughout.
Strangely, it was conveniently forgotten by many of Gavaskar's own countrymen, still unable to come out of the colonial hangover, that his counterpart Keith Fletcher, regardless of his glorified leadership qualities, which had made him and his captaincy a smashing hit with Essex, was more responsible for spoiling interest in the rubber.
But what could you hope from a captain whose two key batsmen, namely Boycott and Chris Tavare, were hell-bent on driving the spectators away from the stadia with their sustained stoicism and stonewalling ways at the crease.
Fletcher should have told them what he wanted from them, what positive cricket is all about. Or did he himself wish to bore the people to death and rob the series of much of its romance and thrill?
Just imagine the plight of the paying public when both Boycott and Tavare scored a hundred each at Delhi. But for a superlative 107 by Viswanath, reminding Frank Keating, no less, of the peerless K.S. Ranjitsinhji, the entire Test would have come to be known as one of the dullest matches of all-time.
In all, India won 9 and lost 8 Tests under Gavaskar. He led the country to four home series win -- against the West Indies, Australia and Pakistan in 1979-80, and versus England in 1981-82.
Interestingly, it was also under Gavaskar's leadership that India triumphed in the extremely tough limited-overs World Championship of Cricket in Australia in 1984-85. It was as good as winning the World Cup, because it was contested among the crème de la crème of international cricket.