Ravindra Jadeja, the fast rising Indian allrounder, celebrated his return to first-class cricket with a century after enjoying a fairly good one-day series with ball and bat against Australia recently.
He scored a sparkling 122 not out for Saurashtra versus Maharashtra at Rajkot and shared an unbroken 272-run fourth wicket stand with Cheteshwar Pujara, who made a smashing comeback with a scintillating 204 not out after being totally away from any kind of active cricket because of the ligament injury he sustained in South Africa earlier this year on the eve of the second edition of Indian Premier League (IPL).
Excerpts from an interview Jadeja gave Haresh Pandya at Madhavrao Scindia Cricket Ground in Rajkot: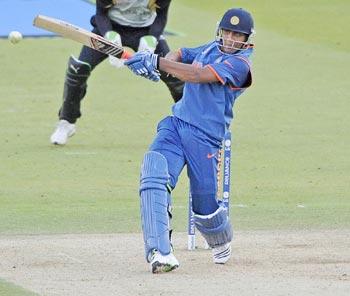 You played like a seasoned batsman and took apart the Maharashtra attack, especially after completing your century. Did you want to enjoy yourself out there in the middle after a very tough battle against Australia?
I just wanted to play my natural game, not to enjoy myself, and I think this is precisely what I did.
It was a good wicket to bat on, the Maharashtra attack was not so formidable and my team was in good position. So it was exciting to play my shots and score a century.
You seem to relish batting in company of Cheteshwar Pujara. You and Pujara added 272 runs for the fourth wicket against Maharashtra. Last season, too, both of you were involved in a record 520-run fifth wicket stand versus Orissa. What is the secret of this chemistry? 
Well, we have played a lot of junior cricket together. We know each other very well.
We have mutual admiration and respect for each other's game. We have a good understanding between us.
Our running-between-the-wickets is good and we just enjoy batting out there in the middle.
This is Pujara's first ever cricket match after he tore his left ligament in South Africa while practising with his Kolkata Knight Riders colleagues. Do you think he has fully recovered?
Yes, of course.
Else he would not have been able to run so much between the 22 yards and scored a fine double century without even once complaining of being tired or under some sort of pain.
It was a nice feeling to watch him play his natural game from the other end. He had no problems whatsoever playing his shots.
You had a decent one-day series, both as a bowler and as a batsman, versus Australia recently. How was the experience playing against the world champions?
It was a good, learning experience.
I think I was truly tested as an allrounder. Playing against the mighty Aussies was so different from what we usually experience in domestic cricket.
The Australians are thorough professionals and they do not care for any cricketer's reputation. Young cricketers can learn many things from the Aussies.
You dismissed the great Ricky Ponting on a couple of occasions after completely flummoxing him. Did you have any special strategy for the Australian captain regarded by many as the best batsman in the world today?
Not exactly.
All I had been trying to do was bowl in the right area and maintain my line and length. I never had a special ball or strategy for any Australian batsman.
I just wanted to bowl well and see them make mistakes.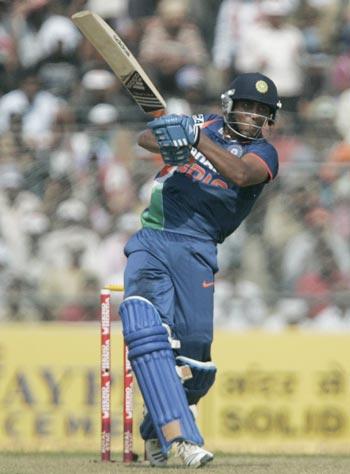 But wasn't it a great feeling consuming Ponting twice?
Yes, it most certainly was. Even my teammates were very happy about it.
And it boosted my confidence as well.
Did you receive any special compliment or praise from somebody for Ponting's wicket?
Well, most of my teammates collectively complimented and congratulated me on bowling fairly well in a few games and dismissing Ponting twice.
It was something like "Well bowled", "Great bowling", "Keep it up", and so on.
You failed to finish off on a victorious note after coming so close to doing so in the Hyderabad one-dayer, particularly when Sachin Tendulkar and you were batting so well in tandem. Any regrets?
Yes, it was very disappointing to lose in Hyderabad even after Sachin Tendulkar played that majestic innings of 175.
We had a very good chance of winning even after his dismissal as we had to score 18 runs in more than two overs. I was very confident of finishing it off quickly.
Unfortunately, I made a mess of it by trying to steal what I later realised was a non-existent single.
We should have won it for Tendulkar.
India appeared to have the upper hand in the beginning in the series. Why, in your opinion, did we lose it in the end?
I am too young and inexperienced to figure out why we lost the momentum in the series.
I think there is no point attempting post mortem now as the new series against Sri Lanka has already started.
Victory and defeat are part and parcel of the game and I feel we should give some credit to the Australians for having fought back well.
Do you think you have secured a regular place in the Indian one-day team?
I would be the last person to think so.
I think no one can take his place in the team for granted. It all boils down to consistent solid performances to merit a regular place in the side.
But I have tried my best to prove my worth whenever I have got opportunities.
Having proved yourself as a good one-day player, are you now looking forward to playing Test cricket?
Yes, I am.
In fact, it is every player's dream to play Test cricket.
I will keep performing to the best of my ability. I am confident I will get to play Test cricket one day. I have full confidence in my talents as an allrounder.