Just 11 Tests and 91 One-Day Internationals in seven years says a lot about Shane Watson's tryst with injuries since making his sojourn in international cricket in 2002.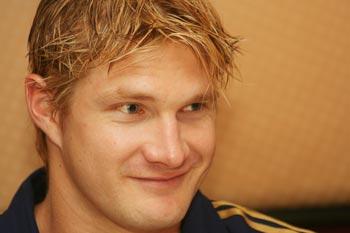 The bulky all-rounder is one of the most powerful hitters of the ball and can do good job with his medium pacers but a series of stress of fractures of the back has seen Watson spend more time at the surgeon than on the cricket field.
He played a stellar role in helping Rajasthan Royals win the inaugural edition of the Indian Premier League in 2008. But what elevated his status from an all-rounder to the next big thing in Australian were his scintillating batting performances in the ICC Champions Trophy.
Watson slammed back-to-back centuries in the semi-finals and final to take Australia to a deserved Champions Trophy title, their second in a row.
Chief Correspondent Harish Kotian spoke to Watson in Mumbai during the Australian open media session in Mumbai where he discussed his new role as opener and also how he is keeping away from injuries.
How much has those back-to-back centuries in the Champions Trophy helped improve your confidence as a cricketer and an opening batsman?
I don't look myself differently. I knew I was improving a lot over the last year or so especially with my batting so I still look at myself exactly the same.
It is just that it is nice to perform in bigger games. It is good to continue to perform with bat and ball and hopefully I can continue to produce some good scores for Australia.
Steve Waugh has hailed you as the new gamebreaker in this new Australian side. How do you react to it?
It is very complimentary especially coming from Steve Waugh, who was such an amazing player. It does mean a lot to me that Steve Waugh said something like that.
In the end I suppose it comes down to that I perform consistently as I am right now and I need to continually perform. Hopefully I can be the pivotal man for Australian cricket moving forward.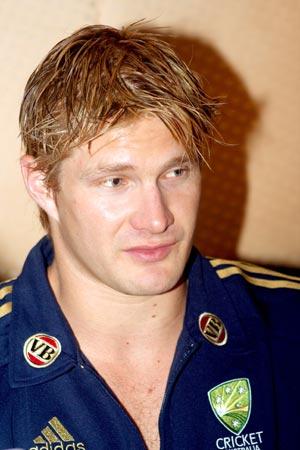 Would you say the Champions Trophy was your breakthrough tournament?
In one-day cricket absolutely!
I felt right through the Ashes series that I was batting very well but was not able to go and get a big score. I knew my game was continuing to progress really well but for it to come together in the semi-final and final was really what you work so hard for.
There is no doubt that Ricky [Ponting] helped me a lot through the semi-final innings just to be able to continually develop the template for one-day cricket and not to get too frustrated when the scoring slows down whereas normally a lot of times I would have got out previously. So having him with me while getting through those periods definitely helped my batting a lot.
A lot of times when I get off to a decent start with the brand new ball once the shine comes off around the 15th or 20th over I was getting out a lot of times. Just getting through those periods and understanding that if I am scoring slowly I would be able to catch up later on when a new hard ball comes through in the 34th over.
It is about understanding my game plan to get through tough periods because I know now that I can catch up with my runs later on the innings.
Ricky Ponting said recently that you are one batsman who can play spinners quite well. How confident are you of doing well against the spinners in this series and how did you evolve you batting against the spinners?
It is something that I had to develop.
I would not say I was an awesome player of spin but I definitely managed myself well. I would stick to my strengths that I have and I know that very well.
It is a great challenge to come and play in India. I was lucky to play in the Test series here last year and now to play in the ODI series against Harbhajan, who is one of the best spinners in the world in turning conditions, is a great challenge for any batsman.
I am really looking forward to that challenge again.
You have played alongside a lot of great Australian players since making your debut eight years ago. What have you gained or learnt playing with those great cricketers like Shane Warne or Glenn McGrath?
I have been lucky to be around the Australian side for eight years now with so many legends of world cricket playing in those sides. I am very lucky to have learnt from some of the legends who have played the game.
I feel like I am still fairly young but to be able to have the experience and I have learnt so much from guys like Matthew Hayden and Adam Gilchrist the way they attack their bowlers but also developing my bowling with the help of Shane Warne, about tactics and also Glenn McGrath.
I am very blessed to have some of the best players in the world help me out with my development.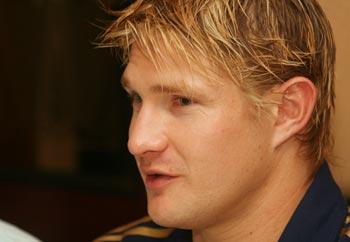 What is your preferred position in the batting order?
To me it really doesn't worry me.
I love opening the batting and it such a great challenge. I love opening the batting in one-dayers but to open the batting in Test cricket was such an awesome challenge against the England bowlers, especially Freddie Flintoff and even Steve Harmison, whom I hadn't even faced in one-day cricket.
So it is just really challenging your game technically and mentally. I would really love to keep getting the opportunity that I am to keep opening the innings.
I have been lucky enough to bat at number of different positions through my career and have been doing successfully too at state level.
Whether I am batting at six or seven, or open I batting and handle the bounce successfully it does not matter to me where I bat because it is opportunity of playing in the Test team.
You enjoyed a successful run during the IPL first season in 2008. What would you say is the key to doing well as a batsman on these slow Indian pitches? How is the body shaping up now?
It is going on great now and things are progressing really well.
To be able to get through a couple of series and bowling quite a bit it has been doing well. Hopefully all those things are behind now because the things I am doing it is working now.
Fast short spells are definitely the key especially with the role I have with the bat now. Ricky has always been looking after my bowling workloads and it is going to continue.
Photographs: Sanjay Sawant