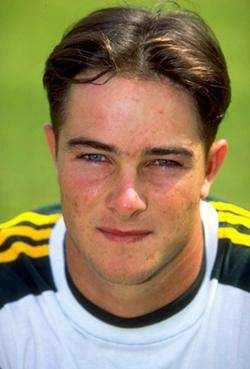 Mark Boucher is in his 13th year in international cricket. Since replacing Dave Richardson, against Pakistan in 1997, he is South Africa's first-choice wicketkeeper.
The 33-year-old holds the record for most dismissals in Test cricket -- 494, which includes 472 catches, 22 stumpings.
Having originally taken over the record from former Australia stumper Ian Healy in October 2007, he lost it subsequently to Adam Gilchrist, another Australian, only to regain it in February 2008, against Bangladesh.
In a long and illustrious career, Boucher also has more than 5, 000 Test runs and five centuries to his name.
The 33-year-old suffered a back injury on the third day of the just-concluded first Test against India in Nagpur and AB de Villiers had to keep wickets. But just when one thought the injury was serious, Boucher returned to duty behind the stumps and South Africa went on to roll over India.
Special Correspondent Bikash Mohapatra interacted with the veteran South African wicketkeeper in the sidelines of the Nagpur Test. Excerpts.
First of all, what reasons do you attribute to having such a long international career?
To ensure longevity, the main thing is to focus on fitness, stay injury-free. At certain times, when you are out of form, you have to understand that the runs are just around the corner.
What also works is to help a teammate, or tell him, 'May be I'm struggling but I'll still help you with my experience.' Basically, you have to keep contributing to the team.
As a wicketkeeper you hold the world record for the number of dismissals. But you happen to be an effective batsman as well. What has changed in your batting over the years?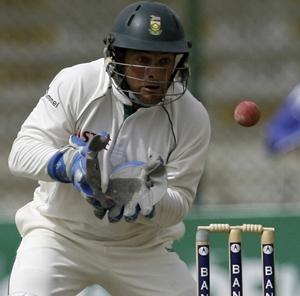 There are little things that can be changed in the way I bat, but no major changes as such. I have picked up a few things during the previous tours here. Sweep is a shot that comes naturally to me and works as effectively.
In South Africa, it is easy to hit down the ground, but in the subcontinent the ball stops a bit and it can be difficult.
I see myself as an all-rounder who can keep wickets and do some batting down the order. I also believe continuous practice helps in the overall improvement.
It is often said that practice makes one perfect but, actually, it is perfect practice that makes one perfect.
Coming to this series against India, are you disappointed that only two Tests are scheduled?
It is strange. Every time we [India and South Africa] play either in a two or three-Test series. However, we don't make the decisions and have to do whatever has been decided.
It will be sad if this series ends in a draw, because a draw will not be a true reflection of the efforts put in by the teams.
But in India, a toss often determines the result of the game.
When most teams struggle to play on Indian soil, South Africa have an impressive record. What do you think works for South Africa in India?
Wickets the world over are now flatter than they used to be and we have adjusted well.
We do emphasise on our first innings batting.
There has been a lot of talk about spinners taking wickets in India. But it is our fast bowlers who have done the job for us on more occasions than one. The statistics do also suggest that.
Our seamers have the attitude and, therefore, we do not need spinners to take wickets.
Isn't it the reverse swing factor that has helped your fast bowlers succeeded on these wickets?
Reverse swing definitely plays a big role on flat wickets like these. We had succeeded with reverse swing earlier in Chennai (2008) -- when Dale [Steyn] had cleaned up the tail -- and we have succeeded now.
There are certain still issues that need to be looked into regarding the effective use of reverse swing on wickets like these. But using the reverse swing effectively you can definitely pick up a cluster of wickets. 
South Africa didn't have a great year in 2009…
I think we played well in Australia. I also thought we played well against England overall, barring two sessions. We somehow seemed to lack the killer punch.
This tour is definitely a stern test for us.
Photographs: Reuters