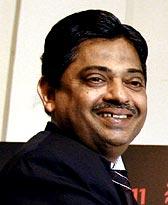 2011 World Cup tournament director Professor Ratnakar Shetty discusses the preparation for the mega-event -- which is returning to the sub-continent after 14 years -- with Senior Associate Editor Harish Kotian.
It was only fitting that the International Cricket Council appointed Professor Ratnakar Shetty as tournament director for next year's World Cup. The Board of Control for Cricket in India's chief administrative officer has proved there is none better when it comes to administration.
Shetty, who was a chemistry professor at Mumbai's Wilson College, made his foray into cricket administration in the 1970s. He then joined Mumbai Cricket Association in 1990 and soon became famous for his administrative skills.
His first association with Indian cricket was in 1997, when he was named manager for the tour of Sri Lanka. But his most important, and memorable, assignment was to follow a few years later when he was appointed manager for India's first tour to Pakistan after a gap of 14 years, in 2004. It turned out to be a dream series for the Indians as they beat Pakistan 2-1 in the three-match rubber and registered their first overseas Test series win in more than a decade.
Shetty then took over various positions in the BCCI and served the Board with distinction before he was deservedly appointed chief administrative officer in 2006.
Are you satisfied with the way preparations for the 2011 World Cup are going ïn all the three host countries?
Yes. In most of the venues work is going on as per schedule. Maybe, in some cases, it will stretch to December, but I don't see any problems.
Do you visit all the venues in the three countries regularly, or have you appointed a team in each country to oversee the preparation work?
Each country has a host tournament director. The host tournament director for each country is supposed to submit a 15-day report in all such stadiums where work is going. Like, in India, Kolkata and Mumbai are the major places where the work is going on.
In Kolkata, the wicket and outfield is ready; in Mumbai, the wicket is ready while the outfield construction work will start in September. In Chennai they are only redeveloping the stands; they are rebuilding the stands in sections so there should not be any problem for completion by November-end.
Out of eight venues in India, six of them are hosting matches either against Australia or New Zealand [in the coming months], so they will be tested. Only Kolkata, Mumbai and Delhi are two venues where there will be no international matches, but they have been assigned Ranji Trophy matches in the month of November and December and the report will be studied.
Are there any concerns, like delay in construction of new venues, especially in Sri Lanka, who are building a new stadium for the mega event?
I went to Hambantota, which is the only place where the new stadium is coming up. What they are doing is that the main pavilion and the north and south ends.... they are building a pavilion; otherwise it is just mounds. So the ground is ready and there are cricket matches being played on that ground. Therefore, there is no issue on the question of playing surface. The structures at both the ends have already come up, so it is just a question of finishing things.
What about the stadiums in Bangladesh?
The stadiums in Bangladesh are being used for international matches. They are just revamping, in terms of putting new lights, scoreboards... new facilities are being added.
Can you confirm if Congress politician Rahul Gandhi is being approached by the BCCI to promote the World Cup?
I am not aware of any such news.
Will we have the Umpire Decision Review System (UDRS) for the 2011 World Cup?
Yes, because the World Cup is an ICC event and the ICC has already taken a decision in the board [meeting] that they are going to have the umpire decision review system for the World Cup, subject to the broadcaster accepting it.
And only the day before yesterday [Saturday, September 4] ESPN Star Sports has conveyed that they will be happy to do that. It may not be there for all the games, but for some games we will have the Umpire Review System. I don't know which games, but, maybe, the knock-out stage games. I am not aware of the details of the same. But one thing is certain: the umpire decision review system will be there for the World Cup.
If Pakistan make it to the final, will the venue be changed from Mumbai, since political parties like the Shiv Sena have opposed Pakistan from playing in the city?
We don't want to think of what hypothetical conditions are. Whatever the situation now is, we don't want to comment on at this stage.
Will it be a safe and secure World Cup for everyone, including the players and fans?
There is a security directorate that has been formed for the World Cup, with Mr Shashank Manohar as the chairman. Every country is now appointing a security advisor, so we have also appointed Mr R K Das, who is a retired IG, and he was with the Intelligent Bureau and the CISF. Every country is therefore preparing its own security plans and there will be a master plan which combines all three nations. I think with the help of the government in all the three countries, the security will be something which will be taken care of.
How big a blow isï the match-fixing scandal for the World Cup, what with just a few months left for the mega event?
I don't know; it is still something which is still being investigated. People are being interrogated and there is yet a lot to come out in terms of authentic information. What we are reading in the media are stories which are being published. There is an investigation which is going on, so at this stage it is not proper for us to jump to conclusions. But, at the same time, it is a serious matter and ICC has seized up the matter. The ICC Anti-Corruption code is quite stringent and they will put this into use and practice it fully for all ICC events.
Former India player Atul Wassan said a few days back that a couple of players told him that they were approached by bookies during the IPL but they turned them down. How do you react to it? How does the BCCI make sure that young and up-and-coming players in the Indian team do not fall into the trap set by bookies and match-fixers?
I am not aware of what Atul Wassan has said. If people have told him that, then he should identify the players and tell us which players told him that they were approached. When such types of stories break out there are a lot of people who come out and say that I have heard of this and somebody has come to me and all that. I don't give importance to all that.
What is important is that if such an incidents have taken place, and if somebody is aware of that, he should come forward and assist the BCCI. What stops Atul Wassan, if he is concerned, from coming and helping the BCCI and identifying what the problems are?
We don't say that, but former Anti-Corruption Unit chief Paul Condon had himself said that the IPL matches were clear of corruption when questions were being raised. So we go by these reports, unless people prove that these are the issues that need to be taken care of. I think as far as the IPL goes the BCCI will not compromise even an inch if it comes to taking care of the Anti-Corruption code or the Anti-Doping code. We are for a clean game and if there is any instance that the BCCI is in the know of, then immediate action will be taken.
Any specific instructions to youngsters on a foreign tour to avoid incidents that happened with the Pakistan team in the UK?
The team managers talk to the youngsters.
Do the senior players also play a role in keeping the young players in check and away from vices during tours?
I think so. The senior players are mentors and in the Indian team fortunately there are some great senior cricketers who are examples for everything that they do, not only on the field but off the field as well. I am sure that some effect of their presence in there in dressing room too.
Would you say that the IPL is a blessing in disguise for the young Indian cricketers, since they get a hefty sum every year which, in a way, helps keep them away from evils like match-fixing?
I would not like to comment on this, because this is again a hypothetical thing you are talking about. Yes, I agree there is money in the IPL and people are getting paid better than they would have actually earned by just playing domestic cricket. So there is a difference between whether you an international cricketer or a domestic cricketer. I think people are getting a better deal now.
How busy is the World Cup keeping you?
The World Cup has kept me busy, basically because there is another five months to go; around 150 days, basically. It is going to be a busy time, because of planning the practice sessions, the matches, dealing with individual associations. It is going to be quite hectic.