In 14 matches in the inaugural Indian Premier League last year, Abhishek Nayar scored 206 runs @ 25.75, with an impressive strike rate of 149.28, for Mumbai Indians. To many he seemed cut out for the shorter versions of the game. But the 25-year-old showed he could also excel in the longer version with a consistent performance during Mumbai's title run in the Ranji Trophy.
Besides finishing among the top run scorers for his side, with 233 runs from four matches (@ 58.25), he also snapped up 10 wickets (@ 18. 60). His 99 in the final against Uttar Pradesh was a crucial innings in the every sense of the term.
For those consistent domestic performances, the all-rounder was rewarded with an upgrade of his IPL contract with Mumbai Indians. Now, with India set to defend its Twenty20 world title in England this June, Nayar also finds himself in the 30-member preliminary squad.
The youngster spoke with Special Correspondent Bikash Mohapatra a couple of days before boarding the flight to South Africa for the second season of the IPL.
Take us through to your experience on the recent trip (with Mumbai Indians) to South Africa?
I think it was a great experience. We obviously got a look into the conditions and the kind of pitches they have. And we got to play three practice games at Durban. That was an eye-opener, because the conditions were alien to us.
We tried to make the best use of whatever time and opportunities were provided to us by Mumbai Indians' management. 
The emphasis was primarily to try and get used to the conditions, and it worked well for us.
The IPL has now shifted to South Africa. Will it make any difference to Mumbai Indians' fortunes, considering you have already trained there?
Hopefully, it will make a difference and we will win this year.
We were fortunate in the first place to go and get to practice there; luckily for us the IPL also shifted there.  Besides, it will make a difference because it will be more competitive cricket, more challenging for us.
How was the experience of working with Jonty Rhodes and Shaun Pollock?
Going to South Africa to acclimatize was in itself a great experience, and Jonty and Shaun being there was like an icing on the cake. They were tremendous. Just having their presence in the dressing room and them talking to us was a big motivator.
When Jonty talked about how keeping the intensity throughout matters in a game, it made us realise a lot of things. We had lost a few encounters in the last season owing to that. 
Jonty also focused on quite a few things during the training sessions, like the fielding techniques, making sure that we were in the right positions while throwing and right throwing action among others.
You played alongside Pollock in the Mumbai Indians' squad last season. This year he returns in the role of a mentor to Mumbai Indians. How has the equation changed?
Well, I think last year he was a player-cum-mentor for us. This year he's still being the same. He hasn't changed a lot. His inputs have been tremendous.
Like last year, for me, just being around Shaun helped throughout the year. I mean, his thoughts and ideas I have carried for a whole year and I have done pretty well.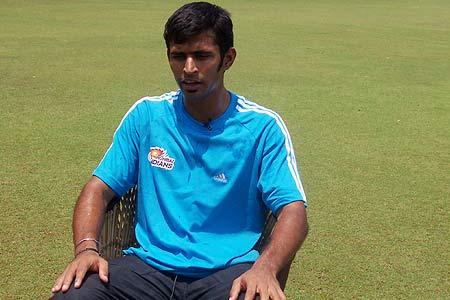 With Zaheer Khan joining Mumbai Indians from Bangalore Royal Challengers, your bowling also is strengthened?
It is tremendous. As we know he (Zaheer) is one of the best fast bowlers in the world at the moment. He has also done well whenever he has played for Mumbai. Just having Zak around is going to be an amazing experience.
Praveen Amre's appointment as the assistant coach should also work well for Mumbai Indians…
It couldn't be any better for us. I mean we have worked with him throughout. I have also worked with him prior to the Ranji Trophy, as we represent the same club. To have him around makes things more comfortable for us. We know that when we need some advice who we need to go and talk to.
Under him we have done well the whole year… the Ranji Trophy, the Duleep Trophy and the one-dayers. So, hopefully, we will carry the good work forward.
His appointment surely matters a lot. He understands our minds quite well and also has a lot of understanding about how domestic cricket is played, as he has been around for a while.
Moreover, he has done well in South Africa. So when he does share his experience it will be a good learning curve for us.
You mentioned that your team has been doing well this year. Last season the results weren't as good. How much do results matter?
Results instill confidence in a player as well as a team. I mean, you can always make out the difference between a champion team player and a player who belongs to a team that hasn't won for a long time. 
The good results have given us good confidence. And, hopefully, we can translate that confidence into performance and help the Mumbai Indians win the IPL.
You are among the 30 probables for the Twenty20 World Cup in England? Hoping to make it to the national team some time soon?
At this point I am just trying to ensure I do well in this tournament (IPL) and enjoy my time in South Africa, and make sure that Mumbai Indians win the IPL.
On a personal front, I just want to keep doing what I am doing; I am not trying to do anything different. There are just a few minor adjustments. But I want to make sure that whatever opportunities I get I make good use of that.
Photographs: Harish Kotian