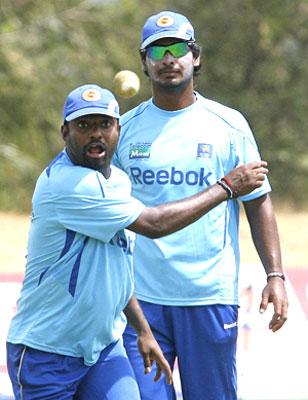 If Sri Lanka win the third and final Test in Mumbai, they will not only break the jinx that has seen them go winless in 20 Tests against India, but also end the series on level terms, with some pride restored.
They lost last week's second Test in Kanpur by an innings and 144 runs and fell behind 0-1 in the three-Test series. The high-scoring first Test in Ahmedabad ended in a draw.
Sri Lanka captain Kumar Sangakkara made it clear that the biggest motivation for his team is winning a Test away from home, something rare for the islanders.
"The motivation is always there. A Test win is great at home; it is even better when it is away from home. And that's the motivation we have in this series.
"We accept the fact that we didn't play well enough to be 1-0 up, other than in the first Test. We start from scratch again. Hopefully build up a big total, or keep the Indians down to a manageable total and try and put as much pressure on them as we can," he said in Mumbai on Tuesday.
Sangakkara said the team, despite being thrashed in the second Test, is confident and hoping to repeat the showing they put up in the first innings of the Ahmedabad Test, where they took a 344-run first innings lead before India escaped with a draw following centuries from Gautam Gambhir and Sachin Tendulkar in the second innings.
"We had a good one in the first Test, not a great game in the second. It is a case of regrouping and keep doing the basics right. I think we have the make-up to beat any side in the world; this is another opportunity for us to do that," Sangakkara said, on the eve of the third Test.
The visitors are still ruing have missed quite a few opportunities in both the matches which they believe proved crucial in India's triumph in Kanpur.
"There were quite a few opportunities. We created quite a few chances with the new ball, in the first innings of the first Test and also in the second innings. But creating opportunities is one thing, taking those chances is another and those are the things that can change a game, especially when those batsmen go on to make big runs. So we have got to make sure that our disciplines are good, our catching is right on the mark from ball one," added Sangakkara.
He made it clear that pacer Nuwan Kulasekara would be drafted in place of Ajantha Mendis, the mystery spinner having struggled in Kanpur.
"I think we will probably go with an extra fast bowler over a spinner on this track. The Kanpur track showed signs of a lot of wear and tear once the second day was over. Here it doesn't seem as dull as that; so the fast bowlers will have an equal chance as the spinners to make an impact. That will mean Mendis will miss out.
"In the last two to three series, Kulasekara has been an outstanding asset to us in Test cricket as well as One-day cricket. I think quality-wise Kulasekara has the edge. Dilhara is coming back after a while, but he is bowling very well, with control and a lot of pace. It's a tough choice; we have to make that tough decision today," Sangakkara added.
He came out strongly in support of Muttiah Muralitharan and said the team will continue to back the veteran spinner because they believe he has the ability to single-handedly win the Mumbai Test for them.
"I think of Murali, as a bowler who has done so much for Sri Lanka, sometimes can have an off-day. That's the way cricket goes. That doesn't mean he is any worse a bowler. He is still our best spinner and, in my view, he is still the best spinner in the world.
"When you have that quality in the side, you have to back that quality and that ability, and it's no different for tomorrow. Murali is still the spearhead of our attack and we are backing him a hundred per cent to turn it around and win a match for us."
Sangakkara also came to the rescue of young all-rounder Angelo Mathews, who also faced criticism for lacklustre performances in the series.
"Angelo is a quality player. He has done a lot of hard work with the 'A' side and when he came into the national side. He has been a player in all forms of the game who has done very well for us. A couple of innings here and there, you expect him to fail, but that doesn't make him a bad player.
"We have a lot of faith in the players we have here on tour and we have faith in the players we select to play in the final eleven. Angelo is no different. He is going to come good. Hopefully, it will be in this game, but he is a very good batsman and a very good seam bowler, and I think he adds quality to the side," he added.