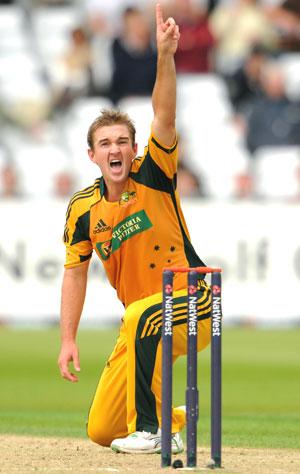 Australian off-spinner Nathan Hauritz is mastering the Doosra under the tutelage of former Pakistan spinner Saqlain Mushtaq, who is credited with the discovery of the mysterious delivery.
"Tips from Saqlain Mushtaq have helped Nathan Hauritz to a stage where his mystery ball may be ready for exposure at Test level this summer," the Herald Sun reported on Monday.
"The former Pakistani spin great met Hauritz during the Ashes in England and ever since the Australian Test spinner has fine-tuned his own doosra in the practice nets," it added.
Mushtaq had introduced the delivery to Test cricket during an Australian tour in 1999, which was later popularized by Sri Lankan Muttiah Muralitharan and India's Harbhajan Singh.
Hauritz said his skipper Ricky Ponting was encouraging him to bowl the delivery.
"Punter (Ponting) is always getting me to try to bowl it in a game. I bowl it a lot more in the nets now. It goes the other way," he said.
"Whether or not we will see it soon, is another thing. I think definitely on a pitch like Perth where the bounce is so fast, if it does spin it might come out there.
"I need to be able to consistently land it in the nets before I bring it out. I feel like short leg will die if I don't get it right," Hauritz quipped.