- Scorecard: India vs Sri Lanka, 3rd Test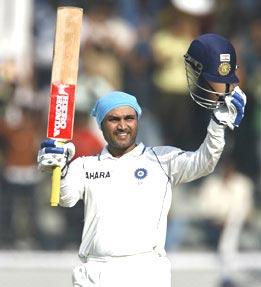 Mahendra Singh Dhoni smashed his way to his third Test century, after Virender Sehwag missed a world record third triple hundred, to boost India to a record total on Day 3 of the third and final Test against Sri Lanka at the Brabourne stadium, in Mumbai, on Friday.
Dhoni slammed 100 off 154 deliveries, and Sehwag 293, as India posted a record 726 for 9 declared in 163.3 overs, their highest total in Test cricket.
In reply, Sri Lanka played out the three overs before stumps, scoring 11 without loss. Tharanga Paranavitana was unbeaten on eight from 15 deliveries and Tillakaratne Dilshan not out on 3.
The visitors, trailing 0-1 in the three-match series, need to score at least 322 runs to avoid the humiliation of an innings defeat.
If Sehwag got the innings off in quickfire fashion, Dhoni ended it in a blaze of glory. India's captain hit six sixes and three boundaries in his 154-ball knock as India surpassed the 705 for 7 declared they put up against Australia at Sydney in January 2004.
Pragyan Ojha was not out on five from 14 deliveries as he and Dhoni were involved in an unbroken stand of 56 runs in 72 deliveries for the last wicket.
Earlier, Sehwag missed a world record third triple century when he was dismissed after a swashbuckling innings of 293, caught and bowled by Muttiah Muralitharan.
The opener, who resumed on his overnight score of 284 off 239 deliveries, hit as many as 40 boundaries and seven sixes, and added just nine runs on the third morning.
Rahul Dravid, who scored centuries in the previous two Tests, missed the opportunity to complete a hat-trick of tons. He was caught behind off Chanaka Welegedara for 74, inclusive of five boundaries and a six, off 147 balls.
Laxman hit eight boundaries in scoring 62 from 91 deliveries before he holed out to mid-on to give Muralitharan his second wicket of the innings.
Tendulkar also failed to carry on after being well-settled and was bowled by Nuwan Kulasekara for 53 from 103 deliveries.
Yuvraj Singh and Harbhajan Singh fell in successive overs as Sri Lanka checked India's progress in the post-lunch session with regular wickets.
Yuvraj was dismissed by Rangana Herath, caught at mid-off for 23, and Harbhajan (1) followed in the next over, when he played on to his stumps attempting a reverse sweep against Muralitharan.
Zaheer Khan was the eighth wicket to fall, caught at long-on off Muralitharan, after a slow seven from 51 deliveries. S Sreesanth (8) was the ninth wicket. He was trapped leg before wicket by Herath, who took three for 205 in 48 overs. Muralitharan claimed four for 194 in 49 overs.
Morning session: (29 overs, 93 runs, 2 wickets)
Sri Lanka did not take the second new ball after 80 overs and continued with spin from both ends.
Dravid, on 62, was lucky to survive. He got an edge and was caught by the wicketkeeper off Rangana Herath in the third over of the day, but the umpire turned down the huge appeal. Two deliveries later he stepped down the wicket and lofted Herath for a huge straight six.
There was tragedy to follow in the next over when Sehwag was dismissed caught and bowled by Muralitharan after a cracking innings of 293. The opener, who hit 40 boundaries and seven sixes in his 254-ball knock, was beaten in the flight by Muralitharan, bowling round the wicket, and ended up scooping the ball back to the bowler, who fumbled before completing the catch. (458-2, 82.2)
Sehwag is the fourth player to be dismissed in the 290s, after Martin Crowe (299), Sir Vivian Richards and Ramnaresh Sarwan, who scored 291 each.
Sachin Tendulkar got a boundary early in his innings after playing the paddle sweep against Muralitharan as the bowler kept bowling on the pads. Off the next delivery, he danced down the wicket and hit the off-spinner through midwicket for another boundary.
Tendulkar also looked to be positive right from the start as he hit boundaries in successive overs off Herath and Muralitharan to take India to 486 for two in 89 overs.
While Tendulkar was scoring at a brisk rate, VVS Laxman struggled to get going and took nearly 15 deliveries to get off the mark. Tendulkar stroked Welegedara through the covers for a brace to take India to 500 for three after 96 overs.
Sri Lanka employed an interesting ploy -- packing fielders on the leg side and Muralitharan bowling on the batsman's pads. Laxman got his first boundary, off the 33rd ball he faced, when he pulled a short delivery from Muralitharan through square leg in the 103rd over.
Finally, Sri Lanka decided to take the new ball, with India on 527 for 3 after 104 overs, hoping to get a wicket or two before the lunch break. The Tendulkar-Laxman partnership seemed in no hurry, as the duo added just 41 runs in the first 15 overs they faced.
Laxman stroked the first boundary with the new ball, hitting hit a wide delivery from Welegedara through the point region in the 107th over.
At lunch on day three, India were 536 for three in 108 overs, extending their lead to 142 runs.
Post-lunch session: (27 overs, 93 runs, 4 wickets)
Tendulkar completed his half-century, his 54th in Tests, with a single on the leg side against Kulasekara in the first over of the session.
Both pacers, Kulasekara and Welegedara, kept things tight after lunch with the Indian batsmen looking to get their eye in. Laxman broke the shackles when he hit Welegedara for consecutive boundaries through the leg side in the 114th over.
Just when the Mumbai crowd was coming back to life, they were stunned into silence when Kulasekara claimed the wicket of Tendulkar for 53. The right-hander hit six boundaries in his 103-ball knock before he was beaten by the incoming delivery from Kulasekara and inside edged it back on to his stumps. (558-4, 114.2)
After Sehwag's vintage display on the second day, Sri Lanka managed to restore sanity as Tendulkar and Laxman took 147 deliveries to add 71 runs for the fourth wicket.
Laxman seemed to have found his top form back, as he once again carted Welegedara for back-to-back boundaries, this time through the off-side region. He completed his half-century with a single on the leg side off Muralitharan from 79 deliveries, inclusive of six boundaries.
Yuvraj Singh underlined India's intentions as he stepped down the wicket and hit Muralitharan over the long-off fielder for a boundary in the 118th over. At the other end, Laxman was beginning to show the full range of his strokes as he bisected the gap at covers with a sweetly-timed boundary.
As India were motoring towards a huge total, Sri Lanka didn't help their cause with their sloppiness in the field. Wicketkeeper Prasanna Jayawardene gave the dangerous Yuvraj (8) a lifeline when he missed an easy stumping as the left-hander charged down the wicket to Herath in the 122nd over.
In the next over, Laxman surprised many when he brought out the sweep shot to hit Muralitharan for a boundary. It was rare to see Laxman use the sweep shot and it was evident that India were now trying to increase the scoring rate. But Muralitharan stopped Laxman in his tracks, dismissing dismissed him for 62, caught at mid-on trying a big shot. The Hyderabadi right-hander hit eight boundaries in his 91-ball knock but, like Tendulkar, failed to carry on and get to the three-figure mark. (590-4, 122.4)
Yuvraj swept Herath across the line for a boundary through square leg and in the same over Dhoni took three runs to take India past 600 in 124 overs.
The left-hander, however, perished soon after, as he sliced one straight to Mathews off Herath, for 23 from 42 deliveries. (610-6, 127.2)
Harbhajan Singh didn't last long either as he tried the reverse sweep against Muralitharan only to drag it back to his stumps for 1. (615-7, 128.2)
It was turning out to be a better day for Muralitharan. The veteran spinner took three wickets, including the prized one of Sehwag, to give Sri Lanka some relief.
At tea on the third day, India were 629 for seven in 135 overs, extending their lead to 236 runs.
Captain Mahendra Singh Dhoni, who was dropped on six, was unbeaten on 21 from 38 deliveries at the tea break with Zaheer Khan on three from 20.
Sri Lanka did well to control India's scoring rate in the session as they took four wickets for 93 runs in 27 overs. Muralitharan had a better day with the ball as he took three for 181 in 41 overs, while Herath claimed two for 177 in 39 overs.
India will be looking to bat out for another hour after the break and get another 100 runs before putting Sri Lanka into bat with a few overs from the end.
Post-tea session: (31.3 overs, 108 runs, 2 wickets)
Dhoni took a double on the leg side off the second delivery after the break to take India to 631 for seven in the 136th over and break the record for the highest team total at this ground. The previous highest score by a team at this venue was 629 for six declared, made by West Indies in December 1948; the match had ended in a draw.
India adopted a cautious approach after the tea break, as just nine runs came from five overs bowled by Herath and Muralitharan.
Zaheer could not get going; he scored just 7 from 39 deliveries before he was dropped by wicketkeeper Prasanna Jayawardene off Herath.
Dhoni also slowed down after the tea break, scoring 32 from 60 deliveries, with India reaching 645 for seven in 143 overs.
Zaheer finally decided to break out of his shell and stepped down the wicket and tried a big shot down the ground. But he could hit it only as far as Kulasekara, at long-on, who completed a fine catch, tumbling backwards, to give Muralitharan his fourth wicket of the innings.
Zaheer played a painful innings of seven from 51 deliveries, as he and Dhoni wasted time during their 32-run partnership, taking 16.4 overs. (647-8, 145)
Unlike Dhoni and Zaheer, Sreesanth wasted no time and advanced down the wicket and hit Herath straight down the ground for a boundary in the 148th over.
Dhoni then decided it was time to make a move and stepped down the wicket and hit Herath for a huge straight six as India progressed to 667 for eight in 150 overs. He completed his half-century off 96 deliveries, having hit just one boundary and six, with a single to the long-region off Herath in the 152nd over.
In the same over, Herath claimed his third wicket, trapping Sreesanth leg before wicket for 8. (670-9, 151.4)
With last-man Pragyan Ojha for company, Dhoni took most of the strike, refused singles early in the over and tried big shots with success. He finally got a boundary when he stepped down the wicket and hit Herath straight down the ground just avoiding Ojha at the non-striker's end.
Muralitharan went off the field after 51 overs, during which he took four for 195, forcing Sri Lanka to bring on left-arm pacer Welegedara. Dhoni was quick to capitalise when the pacer erred by pitching on the pads as he flicked him through the midwicket region for a boundary, his third of the innings.
Dhoni then used the long handle to good effect against Herath, hitting a six high into the stands at the pavilion end in the 158th over. He followed it up with another powerful shot for six as he pulled a short delivery from Welegedara into the stands at square leg to take India's past the 700-run mark.
It was raining sixes at the CCI as Dhoni hit Herath for another two sixes in the space of two overs, the first one straight and the next over midwicket. Those two sixes also saw India register their highest total in Test cricket, beating the 705 for seven declared they made against Australia at Sydney in January 2004.
Dhoni completed his century in style, with another huge hit off Herath that disappeared outside the ground. India's captain took 154 deliveries to complete his third Test century, inclusive of three boundaries and six sixes. He raised his bat to the celebrating crowd before declaring the innings with scoreboard reading 726 for nine in 163.3 overs, at more than four runs per over.
The last pair added 56 runs in 72 deliveries -- Ojha contributed just five runs in that partnership.
It was one of the most dominating batting performances by any Indian team in the history of Test cricket. Except for Yuvraj, who fell for 23, all the other frontline batsmen crossed the fifty-run mark and scored at a fair rate to build on the blazing start given by Sehwag.
Muralitharan managed to restore some pride to his figures after the hammering on day two as he claimed four for 195 in 51 overs. Though expensive, Herath continued his wicket ways, as he finished with three for 240 in 53.3 overs.
(Sri Lanka innings)
Sri Lanka had to negotiate just three overs before stumps and, not surprisingly, Dhoni opted the use his spinners with the new ball.
Tharanga Paranavitana hit a boundary and was unbeaten at stumps on eight from 15 deliveries. Tillakarante Dilshan was not out on three from as many deliveries as Sri Lanka finished 11 for no loss in three overs.
They need to score another 322 runs to avoid the humiliation of an innings defeat, something which they suffered during the second Test in Kanpur. India have two full days left to bowl out the Sri Lankans and win the series 2-0. There is also the extra motivation of becoming the number one team in the world.