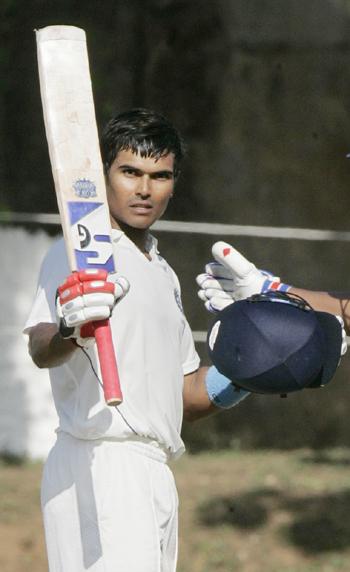 He has three one-day international appearances to his credit, but the last of those -- against Sri Lanka in Colombo -- came more than a year back.
He is a part of the Indian Test team, but yet to play a match.
And his call-up to the national team invariably means he misses out on playing the domestic matches which he would have otherwise played to keep his batting form in tact.
But Subramaniam Badrinath isn't deterred by the lack of opportunities. Instead, he remains optimistic, and, at the same time, pragmatic.
"It is a tough thing because you are part of the national team and aren't getting to play the Tests," he explains, adding, "that also means you aren't playing any other form of cricket in the meanwhile as well."
But the 29-year-old does believe in keeping himself prepared in case opportunity knocks on his door.
"When I am with the team I make a conscious effort to work out at the nets, practice hard and keep myself in the rhythm," says Badrinath.
His Test debut may take some more time coming, but the Tamil Nadu batsman got some reward for his efforts when he scored a meticulous 123 against defending champions Mumbai in the Ranji Trophy Super League match on Tuesday -- his second hundred in the country's top domestic competition this season after a splendid 111 against the Railways in the opener.
"I think this game, in particular, I wanted to give my best shot, because we were playing against Mumbai, the best team in Indian domestic cricket," he reasons.
Badrinath has featured in just four of Tamil Nadu's six Ranji games this season but remains the team's top scorer (335 runs). It is partly due to his effort that the team finds itself atop Group A, five points clear of the chasing pack.
Another aspect that one can't help but notice is his new found aggression. Always known for his technique, as one who accumulate runs patiently rather than go after the bowlers, Badrinath, the batsman, has turned a new leaf.
On Tuesday, his knock comprised four huge sixes, one of them straight back over the bowler's (Ramesh Powar's) head, helping him reach his hundred.
"But I didn't plan it," he defends, before coming up with an elaborate explanation.
"There's a lot of technique involved in hitting the ball over the ropes as well," he says, before adding, "I usually choose to play an innings sans risks but that doesn't mean I can't go over the top and hit big shots."
And it is the Indian Premier League that he credits for this newfound aggression.
"The IPL has helped a lot in this process," he says. "In fact, I have been working hard to try and get myself into a good position and then start hitting the ball."
Despite of a consistent run of scores from his blade, Badrinath is yet to cement his place in the national team while his state-mate, Murali Vijay, has already made a mark in Tests.
Does it bother him that his younger colleague got an opportunity before he did?
"I don't think so. It just happened that he managed to play before I did," says Badrinath, palpably diplomatic.
The answer is followed by yet another detailed explanation.
"I am a middle order batsman," he justifies. "And take a look at our middle order and you find huge names like Rahul Dravid, Sachin Tendulkar and VVS Laxman, all all-time greats. I can't see myself in their place."
But the names he mentioned will continue to be a part of Team India for the next few years. So how does he see himself fitting into the scheme of things?
"I can't let the fact that I am not in the team get into my mind," he reasons, adding, "but these players have to stop at some time and I back myself to be the next in line.
"Till then, I am happy just being a part of the No 1 Test team in the world."