- Scorecard: India vs Sri Lanka, 1st Twenty20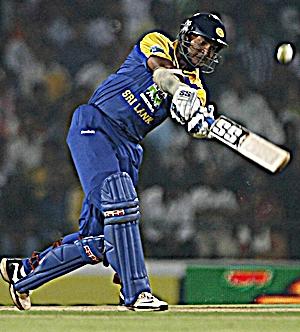 Captain Kumar Sangakkara's quickfire half-century powered Sri Lanka to a convincing 29-run victory over India in the first Twenty20 International, in Nagpur, on Wednesday.
Sangakkara smashed 78 from 37 deliveries, inclusive of 11 boundaries and two sixes, as Sri Lanka posted a record 215 for five in 20 overs, their highest total in Twenty20 internationals.
In reply, India suffered a middle order collapse, after Gautam Gambhir had stroked a quick 55 from 26 deliveries, and finished on 186 for nine in their 20 overs.
This was Sri Lanka's first victory on the Indian tour following the 0-2 loss in the three-Test series, while India's poor run in the shortest format of the game continued. They have now lost four matches in a row.
The middle order came unstuck on a good batting wicket as India lost six wickets in the space of five overs for the addition of only 36 runs.
The 40-year-old Sanath Jayasuriya showed he is still a force to reckon with in the limited overs' format, claiming two wickets for 19 in four overs to follow-up on his 20-ball 26.
Chamara Kapugedera also took full toll on the Indian bowlers as he scored a quick 47 from 20 deliveries, inclusive of seven boundaries and a six, before being bowled by Ashish Nehra.
There was a huge gulf in the fielding standard of the two teams, with India dropping as many as four catches and Sri Lanka taking some difficult ones.
Sri Lanka innings:
The two Indian pacers, Ashish Nehra and Ishant Sharma, made good use of early help from the pitch. They bowled at a good pace and extracted bounce, much to the discomfort of the Sri Lankan openers.
Dilshan got the Sri Lanka's first boundary when he played back to a rising delivery and got an inside edge off Ashish Nehra that went through the vacant fine leg region, in the first over of the match.
Dilshan (6) survived a close chance in the next over when debutant Ashok Dinda at mid-on nearly caught him short with a direct hit.
Sri Lanka's most experienced player Sanath Jayasuriya also failed to get going as he looked uncomfortable against the extra bounce and pace. The left-hander, on 9, got a lifeline when Yuvraj Singh put down an easy catch at point region, in the fourth over, off Ishant.
That drop catch came to haunt the Indians, as Jayasuriya broke the shackles with five boundaries in the next over from Nehra. The first four was lofted over the off-side while another two were pulled through the square leg followed by another couple through the fine leg region as Sri Lanka recovered after a slow start to post 39 for no loss after five overs.
Dilshan then bagged his second boundary, crashing a short, wide delivery from Ishant through the off-side.
India's fielding let them down once again when Ishant dropped another easy chance off his own bowling, as Dilshan (13) also got a second chance.
Dinda could not have dreamed of a better chance in international cricket when he started off with the wicket of Jayasuriya. The left-hander made some room, but the extra bounce from Dinda saw him hit one straight to Ishant on the third man boundary after scoring 26 from 20 deliveries. (43-1, 6.2)
Dilshan took over the attacking mantle as he slammed the next two deliveries from Dinda through the off-side to take Sri Lanka to 52 for one after seven overs.
Yusuf Pathan came into the attack in the next over and Dilshan lifted one over the short fine leg fielder for his fifth boundary of the innings.
Despite the wicket, Dinda was replaced by Pragyan Ojha after just one over. The move backfired. Kumar Sangakkara welcomed Ojha to the crease with two successive boundaries and a huge straight six off the first three deliveries in the ninth over.
Sangakkara helped himself to another couple of boundaries in the next over from Pathan when he flicked him twice through midwicket as Sri Lanka reached 89 for no loss at the halfway stage.
With all the bowlers getting hit around, Dhoni brought in another part-timer in Rohit Sharma, who started off well, conceeding just six runs in his first over.
There was no stopping Sangakkara though, as he took on the inexperienced Dinda in the next over, lifting him straight down the ground for successive boundaries.
Sangakkara raced to 45 from 20 deliveries as Sri Lanka went past the 100-run mark in the 12th over.
Sangakkara completed his half-century in style, off just 21 deliveries, dancing down the wicket and lofting Rohit straight over the bowler for his second six.
Dilshan fell in the next over to a yorker from Rohit after a brisk 34 from 33 deliveries, inclusive of five boundaries. (117-2, 12.3)
Dilshan and Sangakkara made the Indian bowlers suffer as they put on 74 runs in just 6.1 overs for the second wicket.
Mahela Jayawardene didn't survive long; he was bowled for nine by Pathan, attempting the late cut in the 14th over.
New batsman Chamara Kapugedera also looked to attack right from the start as he hit boundaries in successive overs.
Ojha came back for his second over but could not fare better, as Kapugedera smashed him for a huge six straight down the ground. Sri Lanka were 152 for three after 16 overs.
Sangakkara had played just two deliveries in the last four overs but once he got back the strike he continued his assault. This time it was Ishant's turn to face his wrath. Sangakkara slammed a short delivery over square leg for a boundary, while the next delivery was lifted over mid-off for another four.
Kapugedera was also having a ball out in the middle as he gave himself room and chipped Ishant over the covers for the third boundary of the over to take Sri Lanka to 167 for three after 17 overs.
Sangakkara got the ninth boundary of his innings when shuffled across and scooped a full toss from Dinda over the fine leg fielder in the 18th over. The Bengal pacer gifted Sangakkara another boundary, when he bowled a full toss and the batsman gleefully despatched it through wide mid-on to race to 71 from 33 deliveries, his highest score in Twenty20 cricket.
It was all-out attack from both ends, as Kapugedera slammed Nehra for four successive boundaries in the 19th over. The right-hander hit three through the off-side while one was chipped over the vacant fine leg region before Nehra foxed him with a slower delivery. He was bowled after an amazing innings of 47 from just 20 deliveries, inclusive of seven boundaries and a six.
The two batsmen shred the Indian bowling attack to pieces as they put on 69 runs in a mere 5.3 overs for the fourth wicket. (195-4, 19)
Sangakkara started the final over with a boundary, unleashing a powerful reverse sweep over the third man region off Pathan. The Indian fielding continued to dip, as Ishant, running in from mid-wicket, dropped Sangakkara (78) as he attempted another lofted shot through the leg side.
Angelo Mathews needed no time to warm up and smashed Pathan high into the stands over midwicket off the second delivery he faced. He repeated the dose off the next delivery, just about clearing the long-on fielder for yet another maximum.
Sangakkara was run-out off the final delivery while attempting a tight second run after a brilliant innings of 78 from just 37 deliveries. He smashed 11 boundaries and two sixes.
Mathews finished unbeaten on 15 from three deliveries, inclusive of two sixes, as Sri Lanka finished on a mammoth 215 for five in 20 overs, the highest India conceded in this format.
For India, Ishant was the best bowler; he gave away just 22 runs in four overs, despite being hit for 19 in his final over.
Rohit made a vital contribution with the ball, claiming one for 22 in three overs, but the rest of the bowlers struggled.
Nehra (1 for 52 in four overs), Dinda (1 for 34 in three overs), Pathan (1 for 54 in four overs) and Ojha (27 runs in two overs) suffered big time as the Sri Lankan batsmen cashed in on a good batting-friendly pitch.
India innings:
Virender Sehwag, fresh from that blazing 293 in the third Test in Mumbai, started off in style, lifting Nuwan Kulasekara over mid-on for a boundary off the second ball of the innings.
Sehwag (4) got a reprieve in the first over when debutant Chinthaka Jayasinghe nearly pulled off a spectacular catch at mid-off, leaping high but failing to hold on as he fell to the ground.
The right-hander got his second boundary in the next over when he flicked a full delivery through fine leg off Dilhara Fernando.
Gautam Gambhir was lucky to edge a wide delivery for his first four of the innings as India raced to 20 after two overs.
Sehwag got the first six of the innings by lashing at a short, wide delivery from Kulasekara over the point region. A couple of deliveries later he slammed another four straight back past the bowler, as Sri Lanka were once again left to suffer at the hands of Sehwag.
However, the dashing batsman fell in the same over when he chipped one straight to the fielder at deep point and was out for 26 from 14 deliveries, inclusive of three boundaries and a six. (32-1, 2.5)
Gambhir made sure India didn't lose the initiative after Sehwag's dismissal with a couple of boundaries off Fernando in the fourth over.
Captain Mahendra Singh Dhoni, who came in at number three, was content to give Gambhir most of the strike. And the left-hander continued his good form in Twenty20 cricket, hitting Kulasekara for a three consecutive boundaries to advance to 27 from 12 deliveries and take India to 58 for one after five overs.
Even Lasith Malinga was not spared, as Gambhir, fresh from his good run in the Test series, continued to attack. He pulled a short delivery over midwicket for the first of four boundaries in the over and then followed it up with three cracking drives through the off-side as India raced to 77 for one after six overs.
Gambhir picked up a slower delivery from Mathews and lifted him over covers for a boundary to bring up the 50-run partnership for the second wicket in 21 deliveries, with Dhoni contributing just six.
The left-hander brought up his half-century with a double through the off-side off a mere 19 deliveries, having hit as many as 11 boundaries, to take India to 88 for one after seven overs.
Veteran Jayasuriya started well with the ball as he conceded just two runs in his first over. The pressure paid off as Mathews struck with the big wicket of Gambhir in the next over. The opener was out after a sparkling 55. The left-hander, who hit 11 boundaries in his 26-ball knock, shuffled across the stumps trying to play the paddle sweep but missed the ball and was bowled. (93-2, 8.2)
Gambhir had given India a good platform in their difficult run chase as he put on 61 runs in 5.3 overs for the second wicket with Dhoni, the latter having scored 8 from 10 deliveries.
Dhoni then fell in the next over, caught at deep midwicket off Jayasuriya off 9 from 12 deliveries. (98-3, 9.2)
After Gambhir's wicket, India lost the plot, as just 13 runs came from the next three overs even as two wickets fell. India were 101 for three at the half-way stage.
Rohit Sharma didn't survive long; he was run-out for three in the next over attempting a tight second run. (103-4, 10.3)
Things got worse when main hope Yuvraj Singh chipped one straight to Kulasekara off Mathews and was out for 6 as India were left reeling at 105 for five. (105-5, 10.5)
Yusuf Pathan (0) also played a rash shot early in his innings and lofted one straight to Malinga, who took a fine catch running forward, off Jayasuriya. (115-6, 11.5)
While India spilled the easiest of catches, Sri Lanka held even difficult ones, which, in the final analysis, made a big difference.
It was the Jayasuriya-Mathews combine that had brought Sri Lanka back into the game as they took four wickets for 44 runs in the seven overs that they bowled between them.
Suresh Raina made a quick 21 from 13 deliveries before he fell to another brilliant catch, by Dilshan, who ran to his right at long-on, to give debutant Muthumudalige Pushpakumara his first wicket in international cricket, in the 14th over. (129-7, 13.4)
Ashish Nehra wielded the long handle to good effect as he hit back-to-back sixes off Pushpakumara and India swelled their total to 152 for seven after 16 overs, needing 64 from the last four overs.
Nehra continued having fun as he slammed Malinga straight over the umpire for a boundary as the tailenders looked to finish on a fighting note. He was dismissed in the next over, run-out by the bowler, Fernando, after a breezy knock of 22 from 13 deliveries. (167-8, 17.5)
Dinda also made a handy contribution with the bat, scoring 19 from 20 deliveries, before he was bowled by Dilshan. He played all over a straight delivery, attempting the huge heave across the line. (173-9, 19.2)
Pragyan Ojha ended the innings with a straight six, as India finished on 186 for nine in their 20 overs and lost by 29 runs. It was their fourth straight defeat in Twenty20 cricket.
Meanwhile, Sri Lanka broke their four-match losing streak in Twenty20 by winning their first game on the Indian tour after the Test series loss.
India not only goofed up in the field, but also messed up with the bat, as no batsman could consolidate after Gambhir's blazing half-century.
At one point they lost six wickets in the space of five overs, while adding only 36 runs, which ultimately caused their downfall.
They will now be hoping to make a comeback and end their losing run in the second match, to be played in Mohali on Saturday.