A suspected hairline fracture to Yuvraj Singh's finger has left India a trifle worried as they go they go into the opening cricket one-dayer against Sri Lanka in Rajkot on Tuesday with a question mark on the avaibility of the dashing left hander.
It will be a big setback for India if the southpaw, who injured his left little finger while fielding in the last T20 match in Mohali, ends up warming the benches even though team management is keen to play him in the series-opener.
Yuvraj had played a pivotal role in levelling the T20 series against the same opponents as his blistering unbeaten 25-ball 60 had helped India achieve the biggest ever run-chase in the shortest format of the game in Mohali.
The team management will wait till Tuesday morning to decide on fielding Yuvraj, who scored an unforgettable hundred last year in Rajkot by simply wading into the England bowling, in the series opener.
In case Yuvraj is unable to take the field, either Virat Kohli or local boy Ravindra Jadeja is expected to come into the playing eleven.
But losing a man of Yuvraj's abilities on what is expected to be another belter of a wicket at the Madhav Rao Scindia (Race Course) stadium would be a big loss to India who be keen to keep up their momentum and start the five-match ODI series on a resounding note.
India are already without paceman S Sreesanth for the first two ODIs after he tested positive for swine flu virus and if Yuvraj too is declared unfit to play it would be double blow though they have good bench strength to overcome these fitness setbacks.
The return of Sachin Tendulkar, Zaheer Khan, Harbhajan Singh and Praveen Kumar, who were not part of the T20 team, has strengthened the hosts' batting and bowling line-up.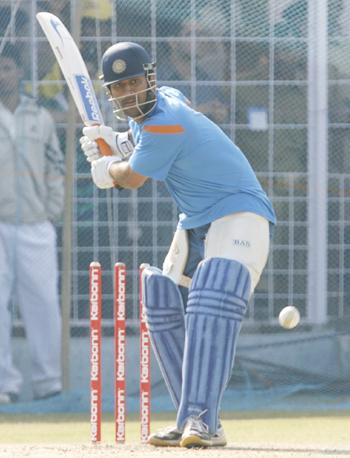 India, who thrashed Lanka in the Test series 2-0 before going off the boil in the first T20 which it lost in Nagpur, has regained its winning form and would be eager to show that the 2-4 loss to an injury-drained Australia team before the visit by the Lankans was an aberration. 
India, currently second behind Australia in the ICC ODI ratings, have the added incentive as a clean sweep in the five-match rubber would help them narrow the gap with the front runners. 
India, with 122 ratings points, are eight behind Australia and can reduce the gap to four ratings points if they whitewash the Lankans, a task easier said than done. 
In the loss against Australia, Mahendra Singh Dhoni, who is two victims short of completing 200 dismissals as a wicket keeper in ODIs and is also closing in on the 5000-run mark with 4954 runs to his credit in 151 ties, and his men came close to winning some matches only to slip up badly to lose momentum and the series.
They would be eager not to make this sort of slip-up again but for this to happen India would need to lift their fielding, catching and bowling by a few notches. 
Newly roped in fielding consultant Mike Young, the Chiacago-born former baseball player, is yet to make an impact on lifting the abysmal Indian fielding standards. 
Dhoni has conceded that ground fielding has never been India's greatest strength over the years. The catching was exceptional in the Test series but the way India dropped chances in the T20 series is a cause for concern.
"I have never seen a team dropping so many catches. But there was something funny going around, something fishy. Sri Lanka also missed so many run-outs. We have to improve our bowling, apart from fielding. Not only in T20s, but also in ODIs," Dhoni had said after the Mohali tie. 
The depth in the Indian batting line-up even in the likely absence of the injured Yuvraj could not only make up for bowling and fielding lapses but can be a headache for any rival bowling line-up, and Lanka would be no exception. 
The medium pacers would have very little margin for error on the Rajkot track which is known to be batsmen-friendly.
England bowlers were carted around by Virender Sehwag and Gautam Gambhir to lay the foundation for Yuvraj to simply destroy them in the previous ODI held in Rajkot.
Yuvraj had smashed a destructive 138 off 78 balls as India raised a huge 387 and won the tie by 158 runs. 
Lanka, who have already experienced the whirlwind from the left-handed powerhouse at Mohali, would heave a secret sigh of relief if he does not take the field.
It would be interesting to see whether Lanka send Jayasuriya as an opener as captain Sangakkara has already hinted at a different role for the flamboyant left-hander. 
Lanka would like to take solace that they had beaten India the last time the two teams met at this venue two years ago. 
Lanka have also beaten West Indies at this venue in the Nehru Cup clash in 1989 while India have faced mixed fortunes. 
The hosts have won five and lost as many in Rajkot. 
However, in ODIs overall played between the two teams in India, the home team has a much superior win-loss record of 25-10 from 37 ties. 
The head-to-head record also is in India's favour at 60-43 from 113 matches, 10 ending in no-result.